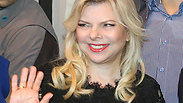 Sara Netanyahu
Photo: Motti Kimchi
PM's wife takes private polygraph test
Mrs. Netanyahu presented AG with results of polygraph test she took of her own accord, in which she was found to be telling the truth concerning allegations made by former PM's residence caretaker Meni Naftali; test does not include other issues that came up in investigations against her.
The prime minister's wife, Sara Netanyahu, has presented Attorney General Avichai Mandelblit with the results of a polygraph test she took privately, which determined she was speaking the truth.

The attorney general is expected to soon decide whether to indict Mrs. Netanyahu over suspicions she misused public funds in several different cases collectively referred to as the Prime Minister's Residence Affairs.

According to journalist Yoav Yitzhak, the owner of website News1, Mrs. Netanyahu took the polygraph test on Thursday at the Tal Polygraph Institute. He also claimed he was the one who initiated the test.

According to Yitzhak, Mrs. Netanyahu was asked about four allegations that came up in the police testimony of Meni Naftali, the former caretaker at the Prime Minister's Residence: Naftali's claim that Mrs. Netanyahu ordered him to inflate the number of participants at dinners at the official residence; his claim that Mrs. Netanyahu ordered him to change the type of meal in the records from private to state in order to increase the budget per person; his claim that Mrs. Netanyahu knew of the procedures barring the ordering of food from restaurants while there is a cook present at the residence and despite this told him to order catering; and his claim that he ordered food in large quantities "to please her."

Mrs. Netanyahu rejected every one of these claims and, according to the polygraph institute, "no physiological reactions were found to indicate lying."

However, Mrs. Netanyahu did not present polygraph results concerning other allegations that came up in the investigation, such as the employing of an electrician at the Netanyahu couple's private residence and the employing of a caretaker for her sick father—both allegedly done at the taxpayers' expense.

Polygraph tests are insufficient for conviction. In addition, polygraph tests done privately—when the subject chooses the questions and the institute—are not considered to be very credible.