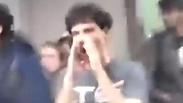 SJP activists disrupting pro-Israeli event
UC Irvine puts pro-Palestinian activists on probation for disrupting Israeli event
Students for Justice in Palestine activists put on disciplinary probation for two academic years after showing up at speaking event with IDF reservists, chanting slogans advocating the destruction of Israel, and swearing at Israeli delegation members; SJP appeals sanctions by university.
The University of California, Irvine put a group of Students for Justice in Palestine (SJP) activists on disciplinary probation for two academic years after they interrupted a speaking event with IDF reservists.

The UC Irvine campus is considered one of the bastions of the Boycott, Divestment, Sanctions Movement (BDS) in the US and previous pro-Israeli events held at the university have been met with violent interruptions.

In May, a delegation from the NGO Reservists on Duty arrived at the university to speak at an event organized by Students Supporting Israel (SSI) during the Anti-Zionism Week on campus.

SJP activists disrupting pro-Israeli event

Some 40 activists from SJP disrupted a question-and-answer session for about half an hour, preventing students from talking to the Israeli reservists by shouting and swearing, with one of the activists spitting at a member of the Israeli delegation.

Some of them were wearing T-shirts with the writing "UC intifada" and chanted slogans advocating the destruction of Israel and violent resistance, including the slogans "Israel, Israel what do you say, how many kids have you killed today?" and "From the river to the sea, Palestine will be free."

Campus police arrived at the scene some 10 minutes after the pro-Palestinian activists left voluntarily and crowded in the hall outside the room. The police had to escort the delegation members outside due to concern for their safety.

The Reservists on Duty NGO filed a complaint with the campus administration, and the university asked the campus police to investigate the clashes at the event.

The Israeli delegation provided campus police with videos documenting the disruptive activists, and claimed they've suffered from swearing, spitting and humiliations from SJP activists throughout the entire week while protesting the "apartheid wall" erected on campus.

The decision by UC Irvine's ethics committee to sanction the pro-Palestinian activists is unprecedented. The students will be on a two-year probationary period ending June 16, 2019, during which they will be required to attend 12 mandatory meetings with the Dean of Students to discuss free speech. They are also required to consult with a representative of the dean's office before hosting or co-hosting any campus event. Any violation of these sanctions could "result in suspension or a revocation of the organization's status," according to the UCI Office of Inclusive Excellence.

The SJP activists appealed the decision on Thursday. The appeal process is expected to take several weeks.

Amit Deri, the director of Reservists on Duty, said Sunday, "We welcome the university's decision. SJP have crossed the legitimate line and have become an anti-Semitic body that spreads terrible lies and rains terror on Jewish and pro-Israeli students."