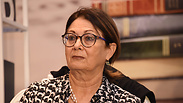 Judge Esther Hayut
Photo: Yair Sagi
Judge Esther Hayut was officially appointed the next chief justice of the Supreme Court on Tuesday, replacing Miriam Naor who will be retiring in about two months.

The Judicial Selection Committee approved her appointment as well as the appointment of Judge Hanan Melcer as her deputy.

Hayut and Melcer will be sworn in at the end of October. Hayut's term as the chief justice will be six years.




"You've heard me speak in different forums, and particularly in the Knesset, about the importance of the 'seniority system' to the independence of the Supreme Court. Today, I ask to speak in favor of Hayut's appointment as chief justice not just because of the 'seniority system,' but also in her own right and because of her excellent skills," Chief Justice Naor said Tuesday while presenting Hayut's candidacy to replace her.

"I've known Hayut as an attorney from her numerous appearances in my courtroom at the magistrate's and district court. Even then she stood out for her professionalism and meticulous work. Thanks to her talents, she advanced up the judicial ranks and was appointed as a Supreme Court justice after only 13 years, first as a acting-justice and later as a permanent appointment."

Naor then went on to talk about her work with Hayut in the Supreme Court. "At first, we regularly sat as a three-judge panel of (Asher) Grunis, Naor and Hayut. It was a civil panel that heard 14 complicated and intricate cases every day... During that time I got to witness Judge Hayut's unique professional talents up close. I discovered a brilliant jurist who knows every detail of every case. Her familiarity with the material, her enhanced sense of justice, and her original and creative thinking—all of these resulted not once in the quick resolution of the cases. Because of that, Judge Hayut has always been accepted by lawyers and litigators of all sides as a judge of the highest order."
'Her verdicts are masterpieces'
Noar continued her praise, speaking of Hayut's time at the Supreme Court. "Judge Hayut heads panels with wisdom and professionalism. Her verdicts are masterpieces, with some of them setting important and influential judicial legislation.
"In recent years, Judge Hayut has headed the Judicial Ethics Committee, which issues decisions used as ethical guidelines for all of Israel's judges. At her side all of these years was her partner, Dudi Hayut. Being a practicing lawyer who is married to a Supreme Court judge, attorney Hayut has been very strict, perhaps more strict than required, with regards to all professional ethical guidelines."
Naor went on to say that "Judge Hayut is seen by all Supreme Court judges as the court's natural leader and as the one who will lead it in the future. This is thanks to her professionalism, her integrity, the fact she is a leader in matters of ethics and above all, because she is a symbol and serves as a personal example to every judge in Israel."
The Supreme Court chief justice, Naor said, "is the public leader of the judiciary, its representative and spokesperson to the other authorities, and is entrusted with protecting its independence. Because of her qualities and many virtues, I have no doubt Judge Hayut will know how to protect the independence of the judiciary and fulfill the many complex roles entrusted to the Supreme Court chief justice with great success."
On Judge Melcer, Naor said "there isn't a more suitable candidate to serve as the deputy chief justice."
"I've known Hanan when he was a practicing lawyer who appeared in various judicial cases. Over the years, Hanan became one of the more prominent and experienced lawyers in Israel. He established a prosperous law firm with his own two hands, created jobs for many laws, and accumulated rich managerial experience."
Naor went on to say that "Hanan joined the ranks of the Supreme Court about a decade ago straight from the private sector—something that was rare at the time. The expertise, knowledgeableness, and thoroughness that characterized him as a private lawyer also characterize him as a judge. Judge Melcer is familiar with the facts and the law, and has an enhanced sense of justice. In many cases, his verdicts include in-depth research of what is being done in other countries, in a way that enriches the judicial discussion."
The Judicial Selection Committee officially chose Hayut as the chief justice after weeks of uncertainty. About two months ago, Justice Minister Ayelet Shaked demanded that a discussion be held in the Knesset on the 'seniority system,' according to which the most senior judge was elected Supreme Court chief justice. The discussion ended without an agreement.
Shaked noted that to her dismay, none of the Supreme Court judges, who are committed to the seniority system, chose to run against Hayut for the position.
Moran Azulay contributed to this story.