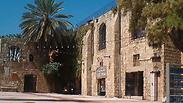 Arab-Hebrew Theater in Jaffa
Photo: PR
The Arab-Hebrew Theater in Jaffa is facing a cut in state subsidies a for hosting an event that allegedly supported terrorism.

Directors of the theater will be summoned for a hearing with representatives of the ministries of finance, justice and culture after hosting an event in support of Dareen Tatour, an Israeli-Arab poet who was indicted in 2015 for incitement to violence and support of terrorism.

Directed by actress Einat Weizman, and organized along with poets Tal Nitzan and Alma Katz, writer Ofra Yeshua-Lyth and producer Khaled Jabarin, the event was titled 'Prison Diaries' and included readings of Tatour's poems, which have been deemed to constitute incitement.

In the wake of the event, the finance ministry's legal adviser Asi Messing ruled that the ministry could trigger a clause in the law that allows it to cut support to institutions that incite to terrorism, racism or violence, that support violent struggle or terrorism against Israel, mark Israel's Independence Day as a day or mourning or deny Israel's right to exist as a Jewish and democratic state.

The theater receives some NIS 900,000 a year in state support.

"We will not allow anyone to incite to terrorism or harm the state of Israel. We will use all the authority provided to us by law," said Finance Minister Moshe Kahlon.

Minister of Culture Miri Regev, who last week asked police chief Roni Alsheich to open an investigation against the theater and the event organizers, tweeted in response to Kahlon's statement: "I expect Minister Kahlon's headlines to be translated from words to actions next week."

The Association for Civil Rights in Israel (ACRI) condemned the finance ministry, saying "there is no legal basis in the law for this decision. It joins the attacks of Minister of Culture Miri Regev on freedom of artistic expression and the threats to revoke budgets due to the content of the work.

"The evening in support of Dareen Tartour took place in protest at the violation of her creative freedom by by bringing her to trials for poems that she wrote. It is a tragic irony that the event is now being used as a pretext to violate the artistic freedom of the Jaffa theater," said ACRI's chief legal counsel Dan Yakir.