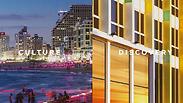 BDS suffers blow as London gears up for Tel Aviv festival
As London prepares to showcase Israeli culture and innovation in giant festival, London authorities strike down requests by boycott movements to hang posters on bus stops and in the city's underground stations calling Israel an apartheid, urging passersby not to attend the event.
Movements aimed at boycotting Israel were delivered a blow by the London municipality recently after it rejected a request that the upcoming London Tel Aviv Festival, TLV in LDN, be forbidden from taking place.

With the decision, London is preparing to paint its streets blue and white at the end of the week as the UK capital gears for the largest Israeli festival ever to be held in England.

Dozens of Israeli artists will take part in the festival as they exhibit before the Brits the creative and inventive side of Israel.

Up until the very last minute, various movements dedicated to boycotting Israel attempted to tarnish the festival and pressure the authorities to altogether cancel the initiative spearheaded by the Israeli Minister of Strategic Affairs Gilad Erdan.

Stepping up their efforts to ostracize Israel in the international domain, the boycott movements designed posters calling for its boycott and requested permission from the authorities to hang them on central bus stops in London and the city's underground.

"London is against apartheid," was the main slogan scrawled on the banners and posters calling on passersby to boycott the festival.

However, the office of London Mayor Sadiq Kahn, himself a Muslim, rejected the request on grounds that it violated the city's advertizing laws.

According to the laws, hanging posters and signs expressing incitement on bus stops or the underground trains is strictly forbidden in the city.