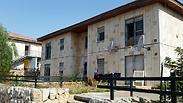 Mevaseret Zion absorption center
Photo: Eli Mendelbaum
500 absorption center residents to be left homeless
HCJ rules that in less than two months, 500 residents of the absorption center near Jerusalem will have to leave; attorney representing petitioners accuses center of illegally stopping residents from finding residency elsewhere; ' I do not know where I will live in the next three years. I am in a state of survival,' says one of the residents about to lose their home.
The Supreme Court rejected last week the petition of 500 residents of the absorption center in Mevaseret Zion against the closure of the center and their request to find permanent housing, ruling that the compound would be vacated by the end of October.

At this point, many of its residents have no suitable housing solutions aside from other absorption centers in Ashkelon and Be'er Sheva.

"A lot of people, including me, already think that it's better to go back to Ethiopia. They throw us out of here, like objects," said Elelin Ayalo, 33, one of the absorption center's residents. "Since I immigrated to Israel, I have been working in security or as a supermarket clerk. I can't get an education because I can't study working, can't promote myself and earn money. Beyond that, I have nephews in Ethiopia that I need to send money to."

"I am not against the evacuation of Mevaseret, but now they will send us to Be'er Sheva for another 3–4 years," clarified Ayalo, who already moved to and from several absorption centers since he immigrated to Israel 13 years ago. "I want to leave Mevaseret, but with the right tools to survive. I don't want to be in Mevaseret, the conditions at the absorption center are inhumane."

"At first I thought about applying for higher education, but I do not know where I will live in the next three years. I am in a state of survival," said another resident of the absorption center, Talhon Tarkin, 27, who immigrated to Israel with his grandfather and brother at the age of 14 after his parents died in Ethiopia.

"I did not know what to do, I wanted to work at first as a physical training instructor, but no place accepted me," said Tarkin, who served as a as a physical training instructor for the Israeli Special Forces unit Maglan during his military service. "Today I work in security, but if they evacuate us, I will lose this job, as well."

When asked about his plans for the future, Tarkin replied: "I do not have a family to live with, I have no one to turn to. My brother has his own family to care for and I cannot live with my grandfather. I do not have enough money to rent an apartment, NIS 3,000 (minimum wage) is not enough. I do not know what I will do."
'Majority of immigrants did their best to leave absorption center'
Attorney Nadav Haetzni, who represented the immigrants in their petition, said in response to the verdict that "the judges (who ruled against the petition—ed) were swayed by the position of the state, the Absorption Center and the Jewish Agency, which is no less than a lie: the Jewish Agency and the state are trying to claim that the immigrants did nothing to help themselves.

"They seriously claim that these people have been living in the absorption center for many years and have gotten used to the situation as it is because they receive very cheap housing close to Jerusalem. We proved in affidavits that this claim is false.

"For example, one of the immigrants, who is entitled to receive a mortgage, located an apartment in Ma'aleh Adumim, but they refused to sign his forms. He was told to first move to an absorption center in Kiryat Gat and only then will it be possible to sign his forms, which is illegal.

"Another woman who is entitled to public housing located an apartment in Jerusalem. She had also been refused and was told to move to an absorption center in the South, otherwise she will lose her entitlement to public housing.

"The absorption center even admitted that about 300 of the immigrants are entitled to public housing, but the state has no public housing to provide them with.

"The bottom line is that the vast majority of the immigrants tried their best to leave the absorption center, they do not want to stay there and they want to integrate.

"We did not ask the court to allow them to stay in the Mevaseret Absorption Center forever. We explained that the circumstances in which they wanted to sell the land years ago that are related to the Jewish Agency Pension Fund no longer exist.

"In the meantime, there are two pending proceedings against the pension fund and against the transfer of the rights to the state, and the tender was canceled, so that it will take years, if at all, until someone even gets ownership of the land. There is no urgency, circumstances have changed.

"The decision of the court from three years ago was to allow the immigrants to utilize their rights in the matter of permanent housing to their fullest, but they were not allowed to and their rights withheld from them, so why not extend it in three years? This is a very bizzare affair that is still being examined to this day by the High Court of Justice and the District Court.

"There are unclear motives here that arouse serious suspicion. MK (Sofa) Landver said in the past that Ethiopian immigrants should be thankful for what they have received from the State of Israel. This hostile attitude is well felt in the position of the Immigration and Absorption Ministry, which has become the enemy of the immigrants."

In response, the Immigration and Absorption Ministry stated: "The date of the evacuation was set three years ago on September 4, 2017. The High Court ruled that there is no reason to postpone the date, which the residents of the absorption center have known for about three years, and that the absorption center is essentially a temporary residence for new immigrants who must evacuate within a short time and take care of themselves with the guidance, accompaniment and financial assistance provided by the State.

"Despite the court's decision, and with good will, the Minister of Immigration and Absorption, MK Sofa Landver, instructed the Ministry's employees to allow residents of the absorption center in Mevaseret Zion an additional period of time after the holidays on October 31, 2017 to facilitate their departure from the absorption center.

"As has always been the case, and as is customary in all absorption centers, Jewish Agency employees and employees of the Ministry of Immigrant Absorption are available to the immigrants and assist them in realizing their rights in housing and in any other endeavor."