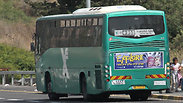 Egged passenger bus
Photo: Zohar Shahar
The public transportation company Egged stopped its activity in the Bat Ayin settlement in Gush Etzion after an Arab driver working for the company was attacked and threatened by several settlers while on his route near the community.

According to suspicions, on Thursday night, at around midnight, two masked youths hailed the driver to stop, asking him where he is headed. When he replied that he was on his way to Jerusalem, one of the youths immediately drew a pistol.

The driver made a hasty escape, as the youths, now left behind, threw stones at the passenger bus.

The incident was reported to Egged and, in consultation with an officer the head of transportation at the Civil Administration, it was decided to stop the buses from entering the community until further notice.

"Following a serious attack in Bat Ayin, a transportation officer in Judea and Samaria instructed us not to enter the Bat Ayin settlement, and therefore the Egged Transport lines will begin and end their route in Kfar Etzion," Egged said in response.

The Judea and Samaria District Police said that they are treating the incident with utmost severity, and that an investigation was opened following the complaint.

Two weeks ago, SJ District detectives carried out a sting operation and arrested several youths on suspicion of attacking Arab drivers. The suspects were brought to court and their lawyers claimed that they were beaten by the police during their arrest.

They were released under restrictive conditions and in the coming week one of them will be indicted.