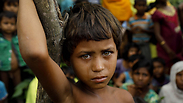 Rohingya refugee
Photo: AFP
The United States Holocaust Memorial Museum stated it is horrified by the ongoing attacks on Rohingya civilians and is calling on Myamar's government to cease its military operations.

Cameron Hudson, director of the museum's Simon-Skjodt Center for the Prevention of Genocide, said that "government efforts to deny Rohingya citizenship rights, restrict their freedom of movement and the practice of their faith, and deny their basic human rights have all been identified as leading precursors to a genocide."

In 2012, the museum awarded Myanmar leader Aung San Suu Kyi the Elie Wiesel Award, its highest honor. Now, it says the ideals that she inspired "appear absent" in the defense of Rohingya.

The museum stated it implores Suu Kyi to use her position in government and her "even more powerful voice to uphold those very ideals and work to stop the longstanding persecution and violence that threaten the very existence of Rohingya in Burma."

Meanwhile, the United Nations has reported that the it along with its partners plan to provide up to 300,000 Rohingya Muslims fleeing from Myanmar to Bangladesh with food, shelter, water, health care and other services until the end of the year.

UN Spokesman Stephane Dujarric told reporters at UN headquarters on Friday that while many of the 270,000 Rohingyas who have fled violence in Rakhine state in the past two weeks initially arrived in Bangladesh by land, more are now making the journey by boat.

Dujarric said five UN agencies have teams in Cox's Bazar where the Rohingyas are arriving and the $7 million released from the UN emergency fund will allow the UN and its partners to those in desperate need of aid.

Dujarric added that Secretary-General António Guterres spoke to Myanmar's leader Aung San Suu Kyi on Wednesday and delivered the same message to her that he said publicly.

Gutteres told reporters Tuesday the government must end the "vicious cycle of violence" and immediately reverse its longstanding policy and give Rohingya Muslims either nationality or legal status so they can lead normal lives and freely move, find jobs, and get an education.