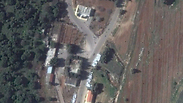 The facility attacked on Thursday. No surprise
Photo: Intelli Times
An attack on axis of evil's 'missile accuracy project'
Op-ed: If Thursday's strike in Syria was indeed carried out by the IDF, then it was a message from Israel that it makes good on its threats. Assuming the Iranians will now speed up their plans for missile factories in Lebanon, will Israel risk launching a military confrontation against Hezbollah or hold back out of fear of escalation?
Those who have been following statements made by senior Israeli defense officials in recent weeks weren't surprised by the reports that emerged from Syria on Thursday morning.

The missile accuracy program pursued by Iran, Syria and Hezbollah tops the IDF's list of priorities. Many resources have been invested in the effort to prevent advanced weapons from reaching Hezbollah. The warnings have been issued again and again, the threats have been clear, but neither have deterred the other side from pressing on with the project in Syria and in Lebanon.

If Thursday's strike was indeed carried out by the IDF, Israel has made it clear that it makes good on its threats. Credibility is a very important thing in the changing Middle East, and even more so against what is known as "the axis of evil." Following the strike, the Iranians are now expected to speed up the project in Lebanon, after realizing Israel is refraining from attacking there due to unwritten understandings with Hezbollah that attacks are only carried out on Syrian soil.

Now's the time for an important and sensitive test: Will Israel make good on its threats and risk launching a military conflict against Hezbollah, or will it refrain from doing so out of fear of escalation? And equally important, has the other side realized perhaps it shouldn't even pursue its plans to build missile factories, given the seriousness of Israel's intentions?

Thursday marked exactly 10 years and one day since the alleged Israeli attack on the Syrian nuclear reactor in 2007. The IDF has—according to foreign reports—struck on Syrian soil more than 100 times. So far, it has been attacking arms shipments. This time, it's a totally different ball game: A state facility, which was built with Iranian aid in a bid to improve the accuracy of Hezbollah's arsenal. The strike was carried out under greater regional difficulties than in 2007, in light of Russia's involvement in Syria both on the diplomatic level and on the military level.

In his meeting with Russian President Vladimir Putin two weeks ago, Prime Minister Benjamin Netanyahu raised Israel's main concern: Iran and Hezbollah's accurate missile project. It's unclear whether Putin greenlighted the move, but such a strike points to Israel's determination to achieve its goal. Similar determination was missing in the fighting against the same axis of evil, Iran-Syria-Hezbollah, in what eventually led to the Syrian victory over the rebels.

Russia stationed its most advanced aerial defense systems in Syria. From an intelligence point of view, this achievement seems impressive: The accurate missile facility in Syria was attacked despite these defenses.

Israel has not claimed responsibility for the attack, but media outlets affiliated with the Assad regime have blamed the Israel Air Force. If Israel were indeed behind this operation, it's safe to assume the cabinet convened recently and gave its general approval for a strike. The attack was carried out in the middle of a wide-scale IDF exercise in northern Israel, while the army is on high alert—but the date of the drill was set at least half a year in advance.

Now, the ball appears to be in Assad's court. He will wait for the green light from his patron in Moscow as to whether and how to respond, and whether to get Hezbollah involved. So far, the Syrian president has avoided responding, apart from firing antiaircraft missiles at IAF planes half a year ago following a strike on his soil. But let there be no mistake: We must maintain a high level of alertness.