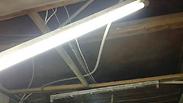 Store in Sidon's Old City where part of the ceiling collapsed
Lebanese report: Israeli jets cause sonic boom over Sidon
IAF aircraft reportedly broke the sound barrier flying in Lebanese airspace, causing glass to shatter in buildings below; Lebanese security officials say Israeli sorties are part of large-scale training exercise IDF is holding in northern Israel.
IAF aircraft reportedly broke the sound barrier while flying over Sidon in Lebanon on Sunday morning, causing panic in the city below, according to Lebanese media.

The sonic boom reportedly caused by the Israeli sorties caused glass in buildings below to shatter, while a woman passed out in Sidon's market.

Lebanese media showed images of a store in Sidon's Old City where part of the ceiling collapsed as a result of the alleged Israeli jets flying overhead.

Lebanese security officials told a Hezbollah-affiliated radio station the Israeli sorties were part of a large-scale training exercise the IDF is currently holding in northern Israel meant to prepare for a future war with the Shiite terror organization.

The IDF declined to comment on the reports.

Over the weekend, Lebanon filed an official complaint with the UN Security Council over Israel's alleged violation of its air space when it reportedly conducted an airstrike against a Syrian government installation on Thursday.

Lebanese foreign minister Adnan Mansour said on Friday that the alleged Israeli attack on Syrian territory from his country's airspace is "a precedent that we cannot keep silent about."

Yoav Zitun contributed to this report.