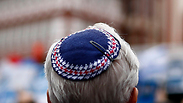 Illustration
Photo: Reuters
A Jewish family was beaten, held hostage and robbed in their home near Paris because of their religion, French authorities and anti-hate groups said Sunday.

The three attackers burst into the house in the Paris suburb of Livry-Gargan late Thursday, cut the electricity and confined members of the family until one managed to escape and alert police, said anti-Semitism watchdog BNVCA.

It said the assailants told the three victims: "You are Jews, you have money. We take money from Jews to give to the poor."

French Interior Minister Gerard Collomb promised a major effort to arrest those responsible "for this cowardly act (which) appears directly linked to the victims' religion".

The BNVCA condemned the attack—in which the assailants made off with jewelry, cash and credit cards—as a "fresh assault that is clearly anti-Semitic".

It said the family members were threatened with death, insulted and "violently beaten".

Francis Kalifat, president of the CRIF umbrella grouping of French Jewish organizations, said "this horrible act is proof that Jews in France are particularly threatened in the street... and even in their homes."

French Jews, the largest community outside of the United States and Israel, have been leaving France at a steady pace since around 2005.

Some 5,000 departures in 2016 add to the record 7,900 who left in 2015 and 7,231 in 2014. In total, 40,000 French Jews have emigrated since 2006.

The community was shocked in 2006 by the kidnapping and brutal anti-Semitic killing of a young Jewish man, Ilan Halimi, in the Paris suburbs, which was followed by a shooting in a Jewish school in the southwest city of Toulouse in 2012.

Experts and members of the Jewish community in France say that the terror attacks in recent years—including one at a Kosher supermarket—are not the only reason people are leaving.

Family, religious and economic reasons have also played a role in the decision to emigrate.