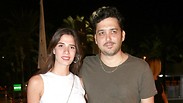 Chen Amsalem and Maor Zaguri
Photo: Anat Mosberg
Often the pressure before a wedding, which includes abysmal questions like the color of the bouquets on the tables or the seating arrangement, gets to the nervous couples and quite a few of them cannot bear each other's company in the days before the event.

Fortunately, this is not the case with Chen Amsalem and Maor Zaguri, who will walk down the aisle in three weeks.

On Monday night, hair product company Schwarzkopf Professional organized a festive event at the Tel Aviv Convention Center, where the couple made an appearance once day before their henna event.

Apart from special hairstyles on the stage, Ania Bukstein also appeared and set the stage aflame with a particularly hot performance.

Among the guests who came to enjoy the performance and to be impressed by the hairstyles, we met the happy couple, who spent a lot of time speaking with their friend from the TV show Zaguri Imperia, Oz Zehavi and Yuval Scharf. In addition, we also saw Shir Elmaliach, Anna Aronov, Dana Grotsky, Liran Kohner and Amira Buzaglo, who also reported on the event and arrived with her husband Moshe Ben Shimol.