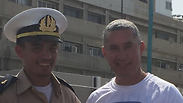 The father-son duo of Omer (L) and Eli Koren
Photo: IDF Spokesperson's Unit
Israeli Naval Academy graduation ceremonies are always moving, but one held last week in Haifa drew particular attention, with a father and son duo boarding the INS Tarshish together, the former being propped up by the latter.

First Lieutenant Omer Koren boarded the ship he will soon serve aboard along with his father, Eli, who himself served on the ship 25 years ago during one of its previous incarnations.

For the past several years, Eli has been suffering from a debilitating illness, whose symptoms include paralysis. This made it exceedingly difficult for the proud father to board the ship, and so he was assisted by his son—set to carry on the family legacy—in the task.

Eli Koren served as a class officer aboard the ship when it was docked in Ashdod. "A fewl years ago, my aorta tore, and then during the operation trying to fix it blood clots got to my brain," he said. "I woke up paralyzed. I had to undergo a long rehabilitation process at Tel Hashomer (Medical Center—ed), former Major-General Doron Almog's Aleh Negev and the Recanati Rehabilitation Center in Tel Aviv. I have a very serious head injury necessitating tons of patience in overcoming the difficulties it places in my way, and today I'm mostly impaired in coordination and walking. We were extremely moved to board the Tarshish together."

The Koren family resides in a moshav near Ashkelon. Eli encouraged Omer, his two other sons and his daughter to take up nautical activities, including surfing, water sports, yacht sailing and sailing the family boat, on Lake Kinneret.

Omer helps his father board the Tarshish (צילום: דובר צה"ל)

Eli was able to perform reserve duty at the navy's command center until the age of 44, and he later performed team building exercises for the corps.

When Omer was 15, however, everything changed. The illness suddenly broke out, but Eli did his best to avoid it weighing on his son.

"It influenced me a lot, but I didn't think it was that big of a deal," admitted Omer, adding that overall, "I think I've been handling it pretty well.

"In hindsight, I actually think it empowered me, it stopped me from getting lost during my teens. It helped me rise up when my hero father suddenly wasn't around. He was the breadwinner and the one who did all of the repairs around the house, and suddenly everyone was looking to me. I started preparing food and taking care of my younger siblings."

During his adolescent years, Omer decided to attend an army preparatory program. He then applied to the Israeli Naval Academy but did not make the cut. Despite this setback, he wouldn't give up, applying again and this time giving it his all. This time, he was accepted to the prestigious training program, and just like his father before him, Omer graduated from it with distinction.

"During every second of the course I kept thinking of my dad and everything he has to go through, dwarfing my own hardships. His struggles entailed getting up in the morning and not being able to move his hand. That's real hardship," said Omer. "My family did a very good job at putting a wall between me and everything that happened at home, and involving me as little as possible. It helped me not lose focus through this very demanding course."

For Omer, the highlight of his training came when he was finally able to board the INS Tarshish together with his father. "I thought it would be mundane, but wow, it was amazing. I never imagined graduating from the Naval Academy," Omer concluded after they boarded. "And to serve on the very same ship my dad served on to boot. I was filled with pride at following in his footsteps."

Eli added his son's participation in the course helped his morale in tackling his condition. "I helped him only with my bond with the sea, and not my connections in the navy. It helped me that he chose where he really wanted to be," he said.