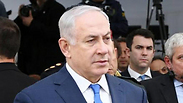 PM refutes fmr. dep. IDF chief's PKK comments
Speaking hours after Yair Golan tells security conference in Washington he doesn't consider Kurdish resistance movement PKK a terror organization, despite US designations as such, PM seeks to set the record straight: 'Israel objects to the PKK and considers it a terrorist organization.'
Mere hours after former deputy IDF chief of staff Yair Golan said he does not consider the Kurdish resistance movement PKK (Kurdistan Workers' Party) a "terrorist organization", Prime Minister Benjamin Netanyahu stepped in to refute his claim in an attempt to head off a diplomatic crisis.
"Israel objects to the PKK and considers it a terrorist organization, unlike Turkey, which support a different terrorist organization: Hamas," Netanyahu said.
Yair Golan's remarks
"While Israel categorically opposed terrorism of any kind, it supports the Kurdish people's legitimate attempts at self-determination," he added.
Golan's remarks before the Washington DC research institute risked infuriating Turkish President Recep Tayyip Erdoğan, as well as raising eyebrows in the US security establishment. An official Turkish response has yet to be made.
Turkey and the European Union have also designated the PKK a terrorist organization. Since 1984, the organization, based in Iraq and Tukey, has carried out attacks and bombings against Turkish targets—both civilian and military—and has killed more than 40,000 people.
Golan's name has been floated around as possible successor for current IDF Chief of Staff Gadi Eizenkot. Also in the running is Eizenkot's current deputy Maj.-Gen. Aviv Kochavi, considered a leading candidate.