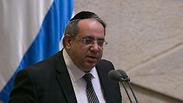 Shas MK Yigal Guetta
Photo: Ohad Zwigenberg
Ultra-Orthodox MK Yigal Guetta of the Shas Party announced his resignation from the Knesset on Wednesday amid criticism leveled against him for attending his gay nephew's wedding.

In a recent radio interview, the 51-year-old lawmaker disclosed that he had a gay nephew who invited him to his wedding. Guetta said he attended out of respect for his sister, with whom he said he had a close relationship despite their ideological differences.

The disclosure caused outrage in the ultra-Orthodox community and led to calls from rabbis for the lawmaker to step down.

In light of the criticism, Guetta clarified he disagreed with the nature of the wedding. "I specifically said during the event itself that this was something that is strictly prohibited in the Torah. It's an abomination, something completely terrible. But there was the matter of my sister," he explained.

Guetta said he was not told to resign from the Knesset, "but they told me it was wrong. There was a discussion about it. I understand this sensitivity. Not everyone can understand Yigal Guetta. I wasn't scolded."

Suzie Ben-Zvi, Guetta's sister, was shocked and angered by the reasons for her brother's decision. "I'm very angry. It's disgusting the 'other' is not accepted here, it's audacity on the part of the state," she told Ynet.

"We're decent people who accept the other. It's not nice at all what they've done," Ben-Zvi added, saying she did not know of her brother's decision in advance.

She went on to say Guetta was not even at the wedding ceremony itself. "He came to show his respect to me because I am his sister. He didn't tell us at first he was coming, and we were surprised he did. We were very surprised and showed him respect. I'm his sister, his own blood, he came to show me the respect I deserve."

In his letter to Shas leader Aryeh Deri, Guetta thanked Deri for the trust put in him and promised to continue working for the Shas movement and for Deri personally.

MK Guetta is considered a rising star in Shas due to his blunt way of speech, which earned him the nickname "the Haredi Oren Hazan."

He was a member of the Bnei Brak city council when Deri promoted him, placing him on the party's national Knesset list.

He was expected to continue advancing in the party thanks to his standing in the movement and close ties with Deri.

Deri spoke to Guetta after the latter submitted his resignation, assuring him he still has a role to play in Shas.

Zionist Union MK Merav Michaeli called on Guetta to rescind his resignation and on Deri not to accept it.

Yesh Atid leader MK Yair Lapid said, "Guetta is an excellent MK and a friend. It's sad that in Israel of 2017, an MK has to resign for attending a wedding of two people who love each other."

Yesh Atid MK Yael German said the resignation was "unfortunate and shameful. Once again we are witnessing MKs making decisions not based on their own conscience, but on political pressure. Guetta participated in a personal family event and chose to honor the highest of Jewish values, such as 'Love your neighbor as yourself.' This was an opportunity for his political and ideological partners to provide us with a lesson of the greatness of unconditional love, instead of unjustified hatred, an opportunity they missed, and he has to pay the shameful price."

The Associated Press contributed to this story.