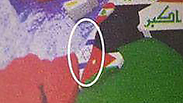 Textbook featuring Israeli flag raises ire in Egypt
Study book for eight graders shows the Israeli flag instead of the Palestinian one on a map of the Middle East, causing the Education Ministry in the country to order the removal of the controversial page from the book and bar it from further distribution while it investigates the matter.
A textbook for eight grade students showing Israel's flag on a map of the Middle East has raised ire in Egypt.

Historian Bassam el-Shammaa told Egyptian newspaper Al-Youm al-Saba'a he contacted the independent publisher of the textbook "Our Arab homeland... geographic trends and Islamic culture," which is unaffiliated with the Education Ministry in the country, after noticing an Israeli flag appears on the map instead of the Palestinian one.

The publisher admitted to el-Shammaa this was an error that would be rectified in future copies of the book.

El-Shammaa suggested to the publisher to issue a message to libraries and schools to remove the map from the books in order to "avoid this serious error," but the publisher "believed this solution was hard to execute."

In light of the extensive press coverage the textbook received, the Egyptian Education Ministry announced it was launching an urgent investigation into the matter.

Ridaa Hijari, the head of the general education department, said steps would be taken against the publisher if the investigation found the textbook did not receive a license from the Education Ministry.

"When I learned about the issue, I turned to the office of the adviser for sociological studies and asked for a copy of the book so I could see it," Hijari said. "Then we'll see who supervised it, who checked the book... We will also issue an instruction to pull the book from stores and bar its distribution."

A senior Egyptian Education Ministry official told the newspaper Al-Masry al-Youm the ministry has already ordered to immediately remove the page featuring the controversial map from the textbook until the investigation is concluded.