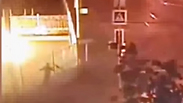 In a suspected case of an anti-Semitic hate crime, unknown individuals were caught on camera throwing Molotov cocktails at a building owned by the Jewish Community Federation in the capital of Russia. There were no reported injuries, but the building's façade has been damaged.

Security footage from the scene of the crime shows one of the perpetrators nearing the building, lighting the petrol soaked bottle on fire and then throwing it.

Footage from the incident

Jewish Federation's Foreign Relations Manager Boris Gorin later told Russian news agency RIA that the remains of two Molotov cocktails were found in the building.