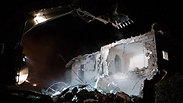 IDF demolishing the terrorist's home
Photo: IDF Spokesman's Office
Israeli security forces seized NIS 48,000 overnight Wednesday apparently meant for the rebuilding of a terrorist's home.

The money was allegedly given by Hamas to the family of the terrorist who murdered Dafna Meir outside her home in Otniel.

The 16-year-old terrorist was sentenced to life in prison in November. The terrorist was ordered to pay a NIS 1.75 million fine, and his parents' home was demolished.

In the time leading up to the attack, the teenager watched Palestinian television, where Israel was presented as a country that "kills young Palestinians."


On the day of the attack, he sought to murder a Jew. He chose Otniel for his attack due to the settlement's close proximity to his place of residence.

Dafna Meir, a mother of six, was outside her house painting her door when the teenage attacker assaulted her, stabbing her several times. She fought him off in an effort to keep him away from her children. Her daughter's screams scared him away, and he fled towards Khirbet el-Karmil, a Palestinian village on the outskirts of Yatta.

Security forces scrambled to comb the area for the attacker, who was caught two days later by the Shin Bet, IDF and elite Duvdevan forces.

In addition to the seizure of the money for the terrorist's family, IDF, Shin Bet, Border Police and police forces seized thousands of shekels held by an unrecognized charity group associated with Hamas.

Furthermore, eight wanted suspects were arrested in the overnight raid. Five of them are suspected of involvement in terror activity and violent rioting.