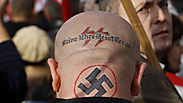 A neo-Nazi activist
Photo: Reuters
Sweden's Jewish community has expressed outrage by local police allowing the Nordic Resistance Movement (NRM), a neo-Nazi organization, to hold a rally near the Gothenburg synagogue during Yom Kippur.

"This is an outrage," said Aron Verstandig, president of Sweden's Jewish community. "This is the only day of the year when many Jews—even those who are usually non-observant—come to the synagogue to pray. On this day, of all days, police have decided to permit this neo-Nazi organization to march in the streets of Gothenburg, a mere stone's throw away from the synagogue."

The Swedish Jewish community declared a public struggle against the police's decision, emphasizing besides the fear for their safety and security, the march also raises highly unpleasant connotations for Jews, as during the Holocaust, Nazis often committed their worst atrocities during important days on the Hebrew calendar.

The Jewish community called upon the police to rescind the permit or move the rally to the city's outskirts, far away from the main thoroughfares where the synagogue is located. Several organizations intend to protest the decision.

At the beginning of the year, the anti-racism Expo Foundation claimed the NRM movement was the driving force behind Neo-Nazism in Sweden in 2016 and was responsible for crime and violence in that context.