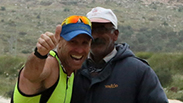 West Bank marathon not recognized by int. race organization
Israel Marathon Association decries exclusion of Bible Marathon by Association of International Marathons and Distances Races; Bible Marathon said to be oldest in world, stretches from central Israel to Shiloh in West Bank; IMA says decision was 'politically motivated, illegal.'
Israel Marathon Association accused the Association of International Marathons and Distances Races of injecting politics into sports on Thursday, by excluding an Israeli race because it passes through West Bank territory.

The Israel Marathon Association said the Association of International Marathons and Distances Races had displayed a "discriminatory nature" against the Bible Marathon that "will certainly result in great anger" among runners around the world.

Next month's Bible Marathon stretches from central Israel to the settlement of Shiloh, tracing a path described in the Book of Samuel. Organizers call the route the oldest recorded marathon in history.

The Greek-based Association of International Marathons and Distances Races organization said it had to exclude the Israeli marathon to comply with "international public law."

The Israeli association asked it to reconsider, saying that its decision was "prompted by a campaign organized by political activists" and rested on false legal premises. It also noted that the organization has long recognized the Laayoune Marathon in the disputed Western Sahara region, controlled by Morocco.

Israel captured the West Bank, along with the Gaza Strip and east Jerusalem, during the Six-Day War. The Israeli government says the territory is part of its ancestral homeland and the fate of the settlements must be resolved through negotiations with the Palestinians.

In its letter, the Israel Marathon Association asked that the Bible Marathon's membership in the international body be restored. Should it not, it vowed to resist "the unjust and politicized denial of membership to the world's oldest running event in every forum available to us."