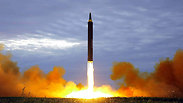 Ballistic missile test
Photo: AFP
N.Korea fires missile over Japan that lands far out in the Pacific
Missile lands in Pacific, setting off warning announcements in town of Kamaishi in northern Japan; US's Mattis says launch 'put millions of Japanese into duck and cover'; US general 'assumes' missile test earlier this month by N.Korea was a hydrogen bomb.
North Korea fired a missile that flew over Japan's northern Hokkaido far out into the Pacific Ocean on Friday, South Korean and Japanese officials said, further ratcheting up tensions after Pyongyang's recent test of its most powerful nuclear bomb.
The missile flew over Japan and landed in the Pacific about 2,000 km (1,240 miles) east of Hokkaido, Japanese Chief Cabinet Secretary Yoshihide Suga told reporters.
Missile test (צילום: רויטרס)
Warning announcements about the missile blared around 7am (22:00 GMT Thursday) in the town of Kamaishi in northern Japan, footage from national broadcaster NHK showed.
US Secretary of Defense James Mattis said the launch "put millions of Japanese into duck and cover", although residents in northern Japan appeared calm and went about their business as normal.
The missile reached an altitude of about 770 km (480 miles) and flew for about 19 minutes over a distance of about 3,700 km (2,300 miles), according to South Korea's military—far enough to reach the US Pacific territory of Guam.
The US military said soon after the launch it had detected a single intermediate range ballistic missile but the missile did not pose a threat to North America or the US Pacific territory of Guam, towards which Pyongyang had previously threatened to launch a missile.
US officials said Washington's commitments to the defence of its allies remained "ironclad". Secretary of State Rex Tillerson called for "new measures" against North Korea and that "these continued provocations only deepen North Korea's diplomatic and economic isolation".
The United Nations Security Council was to meet at 3 pm EDT (1900 GMT) on Friday at the request of the United States and Japan, diplomats said, just days after the 15-member council unanimously stepped up sanctions against North Korea over its September 3 nuclear test. Those sanctions imposed a ban on the country's textile exports and capping imports of crude oil.
"The international community needs to come together and send a clear message to North Korea that it is threatening world peace with its actions," Japanese Prime Minister Shinzo Abe told reporters in Tokyo. Abe described the launch as "unacceptable".
"ASHES AND DARKNESS"
North Korea has launched dozens of missiles under young leader Kim Jong Un as it accelerates a weapons programme designed to give it the ability to target the United States with a powerful, nuclear-tipped missile.
"This rocket has meaning in that North Korea is pushing towards technological completion of its missiles and that North Korea may be feeling some pressure that they need to show the international community something," said Yang Uk, a senior research fellow at the Korea Defence and Security Forum.
Last month, North Korea fired a missile from a similar area near the capital Pyongyang that also flew over Hokkaido into the ocean. Two tests in July were for long-range intercontinental ballistic missiles capable of reaching at least parts of the US mainland.
South Korea said it had fired a missile test into the sea to coincide with North Korea's launch and the presidential Blue House has called an urgent National Security Council meeting. Japan also convened a National Security Council meeting.
The North's launch came a day after Pyongyang threatened to sink Japan and reduce the United States to "ashes and darkness" for supporting the Security Council's latest resolution and sanctions after the North's sixth and most powerful nuclear test.
The US general who oversees America's nuclear forces said on Thursday he was making the assumption that test was in fact a hydrogen bomb, as Pyongyang had claimed, based on the size of the blast.
"I'm assuming it was a hydrogen bomb," said Air Force General John Hyten, head of the US military's Strategic Command. "I have to make that assumption as a military officer," Hyten told a small group of reporters who were accompanying Mattis on a trip to Hyten's headquarters in Nebraska.
Mattis said the US military was "well-practised on this".
"DANGEROUS, RECKLESS"
The North accuses the United States, which has 28,500 troops in South Korea, of planning to invade and regularly threatens to destroy it and its Asian allies.
The US dollar fell sharply against the safe-haven yen and Swiss franc in early Asian hours in response to the launch, although losses were quickly pared in very jittery trade.
US President Donald Trump had been briefed on the latest launch, the White House said.
Trump has vowed that North Korea will never be allowed to threaten the United States with a nuclear-tipped missile, but has also asked China to do more to rein in its neighbour. China in turn favours an international response to the problem.
"China and Russia must indicate their intolerance for these reckless missile launches by taking direct actions of their own," Tillerson said.
Australia, a strong and vocal ally of the United States, quickly condemned the launch.
"This is another dangerous, reckless, criminal act by the North Korean regime, threatening the stability of the region and the world and we condemn it, utterly," Australian Prime Minister Malcolm Turnbull said in an interview with Sky News on Friday.
The United States and South Korea are technically still at war with North Korea because the 1950-53 Korean conflict ended with a truce and not a peace treaty.