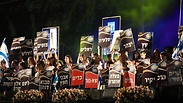 Event marking 50 years to settlement in the Samaria
Photo: Dana Kopel
Israel will hold a large-scale event in late September to mark 50 years to the "return to the historical lands of Judea and Samaria, the Jordan Valley and the Golan Heights."

The hasbara center, led by Culture and Sport Ministet Miri Regev and Education Minister Naftali Bennett, will organize the event, which will be held in Gush Etzion on September 27.

It will feature stories about the lands and the Jewish communities established there alongside videos telling the historical, cultural and human story of these lands, along with pyrotechnics.

The state ceremony will be attended by Israel's top officials, including the president, the prime minister, ministers, members of Knesset, judges, IDF General Staff members, regional council leaders and more. All in all, some 4,000 guests will be in attendance.

The event will be hosted by entertainer Orna Datz and actor Golan Azulai.

Among the performers will be Dikla, singing Ehud Manor's song "Bereshit" (Genesis), Rami Kleinstein, who will be singing his song "Od Lo Tamu Kol Pla'ayich" (Your wonders are not over yet), and military bands performing a medley of Israeli songs with singers Hagit Yaso, Idan Yaniv and Adi Cohen. Singers Hanan Ben Ari, X Factor winner Daniel Yafe and The Voice singer Ron Abdan will also perform.

The event will be the first of a series of events to be held across the country, including a mobile installation meant to make the history of Judea and Samaria, the Jordan Valley and the Golan accessible to all Israelis.

NIS 10 million was allocated for the main event in Gush Etzion and the additional events across the country.

"To the different forces in the world and in Israel trying to undermine the Jewish people's connection to its country, we say—you won't succeed," Culture and Sport Minister Miri Regev said.

"Fifty years ago, we returned to Judea, Samaria, the Jordan Valley and the Golan. We returned home to our ancestral lands, and we are here to stay for all of eternity. Our belonging to these lands should be above political or diplomatic dispute," she continued.

Education Minister Naftali Bennett added, "The liberation of Judea and Samaria and the Golan Heights, and their population with over half a million residents, constitutes another page in the annals of the people of Israel. We returned in order to stay forever, without conceding land and without foreign sovereignty. Zionism continues beating in all of our hearts, and on this day we salute the pioneers of this generation."