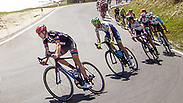 Giro d'Italia cyclists
Photo: EPA
New details on the Giro d'Italia cycling tournament, set to commence in May 2018 in Israel, have been announced, with the opening shot to be fired at the Jaffa Gate, kicking off a three-day race which will see participants rush to the finish line set in Eilat.

During the first day of the race which will start on Friday, riders will pedal around the walls of the Old City and the historical sites in Jerusalem and will draw to a close before Shabbat begins.

The following day, the competition will resume in Haifa where the contestants will race to Tiberias, Nazareth, back to Haifa and from there to Tel Aviv.

The third and final day will begin in Be'er Sheva as participants set their sights on the finish line in Israel's southern-most point in the holiday resort city of Eilat.

In total, riders will travel an average of 200 kilometers per day. The competition is expected to be one of the largest sporting events in Israel.

After three days in Israel, the cyclists will return to Europe, where they will continue a 21-day race that stretches across 3,500 kilometers.

Ahead of the contestants, a convoy of about 60 vehicles will lead the way, followed by a huge cluster of buses and caravans containing hundreds of crew members providing services to the competitors.

The Israel Police will close roads used in the race for a number of hours, causing heavy traffic disruption. Dozens of photo crews will also accompany the cyclists and document the race with live broadcasts from the air and the ground.

Hundreds of thousands of spectators are expected to show up to watch from the sidelines as the cyclists take over the roads and zoom through Israel's cities.

Organizers of the Giro d'Italia were persuaded to start the competition in Israel by the Jewish Canadian billionaire Sylvan Adams, who made aliya to Israel and agreed to finance most of the competition's expenses out of his own pocket.

Convinced of the competition's potential popularity and its positive impact on tourism and Israel's public image, the Israeli government agreed to chip in to help with the expenses.

Public Security Minister Gilad Erdan has already announced that the Israel Police and his office will share the costs of security and policing, which will include, inter alia, helicopters, road closures, and a security detail for the cyclists.

In total, the cost of bringing the competition to Israel is estimated to be $20 million.

176 of the world's best cyclists will arrive in Israel for the Giro d'Italia cycling tournament, one of cycling's top three most prestigious events, along with the Tour de France and the Spanish Vuelta. For the first time in its 101-year history, the Giro will begin outside Europe.