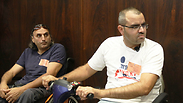 Disabled protestors in the Knesset
Photo: Ohad Zwigenberg
Special Knesset recess debate held on disability benefits
49 MKs vote in special discussion, initiated partly by opposition MK Shmuli, to move matter of increasing disability benefits to committee; 'This is moral, not economic issue. We won't be wiped out like bugs,' says disability protest leader; opposition MKs call struggle 'heroic', vow to solve it through legislation.
49 MKs voted in a special recess session Monday to start the legislative process on regarding disability benefits and the possible solutions to by which to enlarge them, perhaps even so it matches the minimum wage.

Disabled protestors are demanding to raise their benefits to match the minimum wage. "This is a moral, not an economic issue," said Naomi Moravia, one of the protest's leaders. Protestor David Mizrachi was removed from the Knesset Plenary Chamber for voicing remarks in the middle of the discussion.

The protest's representatives came to parliament Monday morning to hold a meeting with delegates from the opposition's Zionist Union and to participate in a special parliamentary group meeting. A demonstration was simultaneously held outside the Knesset building, causing Kaplan Street (which leads up to the Knesset) to be closed to traffic.

Referring to the holiday of Rosh Hashanah, Moravia said in the meeting, "There are a quarter of a million people who in three days' time are not confident they'll be able to put food on the table. This marks one of the first time benefits were not given ahead of time, not even as a payment on account. I personally am not surprised. There's no leader and no leadership. They think of us as roaches on the wall. I'm letting it be known: they won't wipe us out with bug spray. They can't make us go away. We want someone to address this."

"The question at the heart of the matter is whether a disabled person has the same rights as an able-bodied person. The government doesn't seem to think so. There's reference to people without disabilities and lower, second class citizens. I hear grumblings about us blocking the roads. Sometimes extreme measures are a tool. These extreme steps are the proper way of getting our dues," she added.

Shlomi Molcho, an activist in the disabled protests, was moved to tears when speaking. "We're living on borrowed time. The hourglass is turned and we're trying to figure out how much time we have left. There's nothing shameful about blocking roads, it's the only tool we have left. We're losing people. Just this last Friday, another guy who was part of this thing passed away. He lived in abject poverty. We tried to help him, but had little means ourselves," he recounted.

"I've been fighting this struggle for years. I'm impoverished. Completely impoverished. And it's so hard to realize the state doesn't care about us at all. I've been appealing for donations for twenty years. Can't you see we're on the road? If benefits are so paltry, why did they allow me to be a mother to two girls? I have to go through the holiday now without money," said another protestor.
MK Shmuli: 'The disabled protestors' struggle is heroic'
Labor Chairman Avi Gabbay, whose party is the largest within the opposition, said he hoped the government would solve this crisis through legislation. "This is a solvable issue. This government is all about photo-ops. Photos never solved anything. They have photos taken in South Tel Aviv, photos with Avera Mengistu's family. They never solve anything. The solution in this instance is quite simple: raise benefits to minimum wage levels. It's the solution. We'll enact a minimum wage for disabled people law in our first month after replacing this government," he vowed.

"The disabled people's legitimate demand heads into a wall of indifference and malice put up by the government, who's simply abusing them and dragging them like rags through the street. The money's there, but the disabled aren't on the government's agenda. We won't keep silent and won't stand aside and now call on the protestors to escalate their struggle. The protestors have been heroically demonstrating for weeks now," said MK Itzik Shmuli, one of the MKs to initiate the special recess discussion.

"This is one of the more justified struggles I've come across. The disabled aren't half human beings. We have to raise benefits to minimum wage levels. We're seeing a continuum of indifference, run-around and lies from the government. So many papers and yet zero solutions. I want to express my sincere appreciation for the disabled people protesting day in and day out," said MK Dov Khenin (Hadash) in the plenum.

MK Yair Lapid, himself a former Treasury Minister, claimed the state has the funds to meet the disabled protestors' demands. "The money's there. The State of Israel has money today. Lots of it. There's no deficit. I know what I left in the country's treasury. Billions. And the sum only grew with the Mobileye deal and excess tax collection. There's always funding for coalition agreements. If you're a mayor affiliated with the Likud, you'll have all the money you want. But when protestors ask what about them, suddenly there's no money. Instead of money, they're given condolences. If the disabled had an eight-seat party, the prime minister would solve the problem in a heartbeat," Lapid accused.

Coalition Chairman David Bitan said Prime Minister Benjamin Netanyahu explicitly supported the agreement put together by the Knesset. "The attacks on the prime minister and Minister of Treasury (Moshe Kahlon—ed) are out of line because they both support the agreement. I advise not to try and reap political benefits on this issue."

"If the state can't guarantee a basic respectable existence for its disabled citizens, it means its priorities are way off. The fact the disabled have to block roads as the only way to pierce the wall of indifference is not only a social mark of Cain but a painful reminder some of them have to forego essentials such as food and medication because they simply can't afford them. The solutions are on the table and decisions on the matter cannot be postponed anymore," said Histadrut Chairman Avi Nissenkorn.

The protestors' demand to raise disability benefits—currently at NIS 2,342—to the minimum wage is based on their claim that the current sum precludes them any respectable living. "We send our regards to the fighters on the roads and invite the entire public to attend the protest Tuesday and support us. This painful saga, which is doing everyone harm, has to end. The disabled are starving for food and yet overfull with promises," added Disabled, not Half a Human Being Chairperson Alex Friedman.