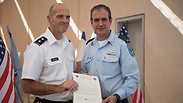 Brig.-Gen. Haimovich and Maj.-Gen. Gronski
Photo: IDF Spokesperson's Unit
US military opens its first base in Israel
The American base, located inside an existing Israel Air Force base, houses dozens of soldiers operating radar device alongside Israeli soldiers; opening ceremony is mostly symbolic, as US radar has been operational on site for a decade, using American civilians to operate it.
The US army inaugurated the first American military base on Israeli soil on Monday. The ceremony was jointly held with the IDF
The base's opening Monday comes as Israel faces a slew of regional threats, especially from its arch nemesis Iran. The Israeli military says the new base sends a message of readiness to Israel's enemies.
The base, located within the grounds of the IDF's Mashabei Sadeh aerial defense school in the southern region, will permanently house dozens of American soldiers operating the large radar, a joint US-Israel device, deployed a decade ago.
The American flag will be posted at the base's entry point and the soldiers serving inside will be using the facilities of the IDF base which encompasses the American asset.
Since the communications device—which identifies Middle-Eastern threats to Israel—was erected, the American army operated it using American citizens in the country sporadically.
A recent decision, however, decreed the American side of operations will now be handled by permanent US army soldiers, leading to the base's creation.
The Israeli Air Force welcomed the base's creation and explained it serves as another facet in deepening the standing, operational collaboration between the two countries, set to culminate this coming February with the "Jennifer-Cobra" joint biannual exercise.
The drill includes a multi-theater scenario in which Israel is attacked using missiles and rockets from several directions simultaneously.
"The soldiers here are part of the American taskforce," explained a high-ranking air force officer. "They're here to stay, and the process of putting them here was born of the understanding it's both reasonable and required for certain American assets to exist on Israeli soil."
Together with the US, Israel has developed a multilayered system of defenses against everything from long-range guided missile attacks from Iran to crude rockets fired from Lebanon and the Gaza Strip.
The Associated Press contributed to this report.