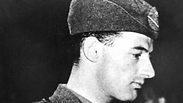 Raoul Wallenberg
Photo: AP
Russia rejects lawsuit to learn fate of Swedish war hero Wallenberg
Family of Swedish diplomat Raoul Wallenberg—who saved thousands of Jews in World War II and went missing in KGB prison—sues in Russian court to receive documents pertaining to his fate; court dismisses suit, citing confidentiality pertaining to other persons involved.
A Russian court on Monday rejected a request to release classified documents about Swedish Righteous Among the Nations Raoul Wallenberg, whose fate remains a mystery seven decades after his reported death, Russian news agencies reported.

Wallenberg, a former Swedish diplomat, helped save 20,000 Hungarian Jews during World War Two before being captured by Soviet forces in 1945.

A Russian report claimed he died of a heart attack in 1947 in the Lubyanka prison in central Moscow run by the KGB security service, but no definitive proof of his fate has been put forward.

Rumors Wallenberg was still alive persisted even after the 1947 announcement of his death. Many entities, including the Wallenberg itself, attempted to ascertain his fate, but were unsuccessful.

In 2000 Russia finally admitted culpability in his death, with rumors suggesting he received an injection of poison while in the Russian prison. These rumors, however, were never substantiated.

This past October, 71 years after his disappearance, Sweden officially pronounced him dead. In the past the Nordic country announced it cannot accept claims of his demise due to lack of concrete evidence.

The Swedish SEB bank, entrusted with managing Wallenberg's estate, asked Swedish tax authorities to pronounce him dead in early 2016. The authority responsible for registering births and death in the country finally relented.

Relatives of Wallenberg filed a lawsuit against Russia's Federal Security Service (FSB)—successor agency to the KGB—seeking access to uncensored documents which they said could provide clues to Wallenberg's fate.

But a Moscow court rejected that lawsuit out of hand on Monday, saying the documents could not be released because they contained personal information about other individuals, Russian news agencies reported.

Wallenberg's relatives were cited as saying they would appeal.