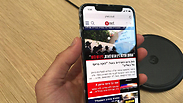 The new iPhone X
Photo: Sagi Cohen
The new technologies unveiled last week at the launch event for the iPhone X can be traced to none other than the "Start-up Nation": Israel.

The X model, Apple's newest and most advanced offering, boasts innovative face recognition capabilities, allowing users to unlock the device using a facial signature and creating animated emojis controlled by their own faces.

A significant portion of the research and development behind these new features was carried out at Apple's Herzliya R&D hub, a source familiar with the company said.

Apple Israel acted as a sort of "test lab" where local engineers fiddled with new ideas, and it ended up being the birthplace of some of the new technological marvels. "The Israeli lab was at the forefront of development. A lot of the iPhone's wisdom came from Israel," the source revealed.

The iPhone X's upper portion has a black "slit" over the screen, where a special camera and a variety of sensors—collectively known as TrueDepth—are located. The sensors are capable of measuring the depth of an image, thereby scanning a photo of a face and creating a 3D model of it. This allows precise face recognition.

The technology behind the new feature can be traced directly to Israeli start-up company PrimeSense—purchased by Apple in 2013 for $350 million.

The very same company also developed the technology at the heart of the Xbox 360's Kinect device, which allowed users to play games using hand and body motions.

Apple has been hard at work on its facial recognition system for the past 18 months. Throughout the development cycle, Israeli teams have participated in developing essential components for the sensor array, cameras and face recognition and even played a central, significant role in shaping and creating the new "Animoji"—emojis moving in tune with users' facial expressions.

Despite the fact most of the actual development was performed by American teams in Apple's US headquarters with some collaboration from the Israeli center, the latter played a major part in coming up with the original ideas and then developing their basic framework.

Face recognition and cameras are not the only Israeli contribution to the iPhone and other Apple products, however. Apple has officially disclosed in the past the company's development center in the country employs 1,000 people in Haifa and Herzliya, who toil on the most critical "innards" of the iPhones, iPads, iMacs and Apple Watches.

The center works on hardware such as storage, chips, cameras and wireless connectivity for all Apple devices.

Apple purchased another Israeli start-up—RealFace—earlier this year. The facial recognition software developed by the company has yet to be integrated into the current wave of iPhones.