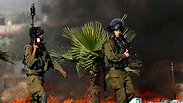 Israeli security forces have uncovered and then took into custody an east Jerusalem terror cell taking part in stone and Molotov cocktail throwing while planning shooting attacks, it was cleared for publication on Tuesday.

The group, whose members are Israeli citizens, operated in the neighborhood of Silwan, which is south of the Temple Mount complex.

The group's leader, Muhammad Faroh, a 39-year-old Silwan resident, was in contact with elements from the Gaza Strip and Lebanon, which reportedly financed and sponsored the cell's operations.

Other members of the cell, known as "The Silwan Ghosts," were also arrested: Amir Faroh, 19, Saud Aliyan, 18, Muhammad Abu Ta'aya, 19, Amjad Shweiki, 19, Ali Abasi, 19, and Ahmad Abu Khalf, an 18-year-old resident of Abu-Tor near Silwan.

An additional Silwan resident was arrested, a minor at the time of being taken into custody, who participated in planning shooting attacks and was involved in torching a security vehicle and other firebomb attacks.

The group planned to carry out several terrorist attacks, including shooting at Israeli vehicles or Jewish homes in the neighborhood. They had also made plans to purchase various arms to carry out this plan and made other preparatory arrangements.

Its members also participated in stone, Molotov cocktail and firework throwing incidents directed at security forces and vehicles.

One of the attacks, taking place August 6, involved some of the group's members spilling gasoline on a security vehicle before firebombing it, causing the car to go up in flames.

The cell's members will be indicted Wednesday at the Jerusalem District Court for their involvement in the planning and carrying out of terrorism.

The investigation has uncovered a major ramping up of local terrorist outfits, partly influenced by the outbreak of violence around the Temple Mount this past summer.