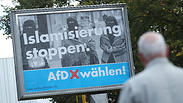 AfD election campaign poster
Photo: Getty Images
Salomea Genin, an 85-year-old Jewish Berliner who fled the Nazis as a child, says she would flee Germany a second time if the far-right Alternative for Germany (AfD) ever took power.

Genin, who holds dual German and Australian nationality, was shocked by comments this month by a top AfD candidate in Sunday's federal election, Alexander Gauland, that Germans should take pride in what their soldiers achieved in two world wars.

"I was speechless," said Genin, who lost 29 family members during the Holocaust, in which the Nazis killed six million Jews. "I never thought that I would again face a movement in Germany with the sort of ideas that are coming out of the AfD."


It is unlikely that Genin, who returned to then-East Germany in 1951 after growing up in Australia, will have to pack her suitcases again any time soon.

Although opinion polls suggest the anti-immigrant AfD could become the third biggest party in the lower house Bundestag after the election, other parties have vowed to shun it in negotiations to form a new coalition government.

The AfD, which would be the first postwar far-right party to enter parliament, denies being racist.

Germany, home today to an estimated 200,000 Jews, has built a reputation in recent decades as a tolerant, safe place for Jews to live, but official data show anti-Semitic crimes reported to the police rising 4 percent to 681 in the first eight months of 2017 against the same period last year.

The real number is probably much higher.

Nearly 93 percent of reported anti-Semitic crimes were linked to far-right extremism, despite predictions that a large growth in the Muslim population since Europe's 2015 migrant crisis could fuel attacks or discrimination against Jews.

"Police statistics and new private reporting sites report a growing number of anti-Semitic crimes. In addition, we have the impression that anti-Semitic sentiments are being expressed without reservation on social media," said Josef Schuster, president of the Central Council of Jews in Germany.
'We should be alarmed'
Schuster's group has urged political parties and non-governmental organizations to work together to combat right-wing extremism. It has also backed calls for the German government to appoint a special commissioner for anti-Semitism.

Chancellor Angela Merkel's cabinet on Wednesday adopted a broader definition of anti-Semitism backed by the International Holocaust Remembrance Alliance, and promised a "resolute and consistent battle against every form of anti-Semitism".

But it did not announce a special commissioner or adopt four other recommendations made by an independent council of experts.

Volker Beck, a member of the pro-environment Greens party, accused the government of complacency.

"We can't work magic, but doing nothing is just negligent. When the word 'Jew' is used as a schoolyard taunt, something has to happen. We should be alarmed," Beck told Reuters.

German schools have long taught about the Holocaust, but rights groups say the rise of the AfD and other far-right parties has lowered the barrier for anti-Semitic comments and other hate speech.

Miriam Marhoefer, a 37-year-old Jewish social worker from Mannheim, drew a parallel with France, which some Jews now regard as unsafe following increased attacks on them there.

"My biggest fear is that (Germany) will become like France, where Jews are once again emigrating," said Marhoefer.

Marhoefer is taking part in a two-year-long course run by a branch of a century-old Jewish welfare league that helps people to combat anti-Semitism in their communities.

Such programs are particularly important for people outside cities with large Jewish communities, said Anna Sodki, 45, a Jewish economist from Bergisch-Gladbach, near Cologne.

"For a long time, we felt safe," she said. "But now, I don't wear my Star of David out anymore. You never know who you're going to be sitting next to on the train."

The Central Council is also training about 40 Jewish youths aged 15 to 20 to visit German classrooms to challenge stereotypes and combat ignorance.

Dimitri Bilyarchyk, a 20-year-old student who took the training, said the word "Jew" was often used as a slur and that young people in his native Bavaria often referred to their last sip of beer as the 'Judenschluck' or 'Jewish sip'.

"It's only words. But many things start with words, and I think language is really important in this context," he said.

"The official AfD programme says 'we stand with the Jews'. To which I say, and I think I speak for all Jews in Germany, please stand somewhere else," Bilyarchyk added.

"When you incite hatred against one group of people ... be they Jews or Muslims or gay people, it's not long before they switch from Muslims to us."