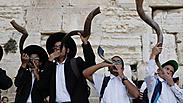 Haredim blowing the shofar
Photo: EPA
Hundreds of police and volunteers will be deployed Wednesday all over the country to help relieve traffic congestion as friends and family come together for Rosh Hashanah eve, the Jewish New Year.

The activities of the policemen and volunteers during the holiday will focus on providing public service, managing road traffic and conducting targeted enforcement of life-threatening offenses that cause traffic accidents.

The police ask drivers to leave early on the eve of the holiday, to obey instructions from police and traffic volunteers.




The IDF Spokesperson announced the imposition of a general closure on the West Bank and the closure of the crossings into and out of the Gaza Strip from Wednesday until the end of Rosh Hashanah on Friday.

During the closure, passage will be allowed only in humanitarian, medical, and exceptional cases, all subject to the approval of the Coordinator of Government Activities in the Territories.

The IDF Spokesperson stated that during the holiday season, the IDF will open some of its training grounds throughout the country for travelers. Travelers are still advised to do so cautiously and ensure that they do not enter the active IDF training grounds by accident.

The IDF Spokesperson emphasized to the public that it is forbidden to cross fences and enter fenced and controlled places, including minefields marked with a barbed-wire fence and red-yellow signs.

In addition, Israeli citizens must act cautiously and in accordance with the directives and ensure that they do not enter Area A in the West Bank inadvertently, which constitutes a violation of the law in accordance with the order of the OC Central Command.

Entries to Area A are marked with red warning signs.