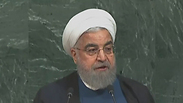 Rouhani at the UN General Assembly
Photo: Reuters
Rouhani: Iran will 'respond decisively' to any violation of nuclear deal
Speaking at the UN, Iranian president says his country will not be the first to breach nuclear deal, warning US against doing so: 'It'll be a great pity if this agreement were to be destroyed by rogue newcomers'; later says Iranian people waiting for apology from Trump for 'ignorant, absurd and hateful rhetoric.'
Iran's president warned Wednesday that his country will "respond decisively" to any violation of the agreement that reins in its nuclear program and called US President Donald Trump's "ignorant, absurd and hateful rhetoric" about Iran unfit for the United Nations.
In remarks clearly directed at Trump's 8-month-old administration, Iranian leader Hassan Rouhani told the UN General Assembly: "It will be a great pity if this agreement were to be destroyed by rogue newcomers to the world of politics."
"The world will have lost a great opportunity, but such unfortunate behavior will never impede Iran's course of progress and advancement," Rouhani said.
Iranian President Rouhani addresses UN General Assembly (רויטרס)
Rouhani said his country would not be the first to breach the nuclear agreement, "but it will respond decisively to its violation by any party."
He told a news conference that if the US decides to break the agreement, "any choice and any option" are open for Iran—but he dismissed Trump's "baseless accusation" that the nuclear deal may be providing cover for Iran's eventual construction of nuclear weapons.
"The options that we say we have at our disposal ... will never be going towards nuclear weapons," Rouhani said. "Iran has never sought nuclear weapons, will never seek nuclear weapons, is not now seeking nuclear weapons."
"An option may be to start enrichment," he said, "not building an atom bomb."
Rouhani said Iran's 10-year agreement to purchase fuel for its nuclear reactor at Bushehr is coming to an end and it may want to produce its own enriched uranium for fuel, but "never, ever, at all nuclear weapons."
Rouhani repeatedly invoked moderation as Iran's goal and said its missiles—which have been strongly criticized by the Trump administration—"are solely defensive deterrents."
Ultimately, Rouhani told reporters, "We don't think Trump will walk out of the deal despite (his) rhetoric and propaganda."
He also ruled out the idea of renegotiating the pact, repeating several times that "there will be absolutely no changes—no alterations" to the agreement. "Either the nuclear deal remains as it is or it will collapse," he added.
And he said Iran will not accept any "preconditions or conditions" to keep the United States in the deal which was reached in 2015 after two years of negotiations. It was later ratified by the UN Security Council.
Rouhani: US will not benefit from exiting deal
Rouhani responded to a question on whether his government would be willing to talk to the Trump administration about issues other than the nuclear deal saying, "we wouldn't be able or willing to talk to them about other issues."
"I do believe that if the United States of America breaks the commitment under the (nuclear agreement) no other government in the future will be ready and willing to talk or negotiate with the United States of America," he added. That's because "a government that chooses to trample upon her legal and legitimate international commitments—a conversation or negotiation with such a government would be a waste of time."
He further asserted that "if the United States government exits the agreement, undoubtedly it will be condemned by the American people themselves, and before that by the European Union and all countries throughout the world."
And if the Trump administration believes its pullout "will bring pressure on Iran, then you can say they are completely and absolutely mistaken," he said.
"The exiting of the United States of America from the (nuclear agreement) will not benefit them in the slightest," Rouhani said. "The position of Iran throughout the world will be stronger and better than before, and the government of the United States, under the pressure of public sentiments from throughout the world, will not see any benefit."
Asked whether the agreement could survive without the US, he said "it's a bit early or premature to hold discussions about such questions," adding that the "Europeans want to preserve it."
"If it cannot be preserved what will happen then is a very important question that we are analyzing as well as (is) the European Union," Rouhani said, and "other partners" are also analyzing and discussing scenarios.
"One important aspect will be the type of reaction of the European Union should this come to pass," he said.
As for accusations that Iran is supporting terrorists, Rouhani responded with a question asking which governments created al-Qaeda, formed the Taliban, supported the Islamic State extremist group and bought the oil and antiquities they are selling.
"So whomever brings their armies to our region, whomever sparks war in our region, whomever has formed and supported terrorist groups in our region is in no position to levy such accusations against the Islamic Republic of Iran," Rouhani said.
Iranians waiting for Trump to apologize
Rouhani's speech came a day after Trump, in his own address to the assembly, called the UN-backed Iran nuclear deal "an embarrassment" to the United States. He also called the Iranian government "a corrupt dictatorship" and "a murderous regime" whose oil profits "fund Hezbollah and other terrorists that kill innocent Muslims and attack their peaceful Arab and Israeli neighbors."

Rouhani retorted that "the ignorant, absurd and hateful rhetoric, filled with ridiculously baseless allegations, that was uttered before this august body yesterday" didn't befit an organization established to promote peace and respect among nations.

In a later tweet, he made clear that the comments were directed at Trump.

Rouhani told a news conference the Iranian people are "waiting for Mr. Trump to issue an apology" for his "extremely offensive" rhetoric and "unfounded" allegations about his country.

He asserted the Trump administration is seeking "an excuse" to pull out of the nuclear agreement and said it would be a "waste of time" for him to meet the American president.

Trump hinted that his administration, which has accused Tehran of aiding terrorism in the Middle East, could soon declare Iran out of compliance with the deal. That could unravel it, possibly upending relations in the Middle East and triggering a regional arms race.

Asked about his stance on the nuclear pact Wednesday, Trump said he had made a decision. Pressed for details, he replied coyly: "I'll let you know."

Shortly afterward, Vice President Mike Pence told the UN Security Council that Iran "continues to flout the spirit of the Iran deal, destabilizing the region and brazenly threatening the security of sovereign nations," a toned-down version of the diatribe delivered by Trump in a General Assembly speech to fellow world leaders Tuesday.

It wasn't clear if Trump had made a final decision to leave or stick with the Iran deal. On several other issues over his presidency, he has teased reporters with the idea that a major verdict might be imminent, only to delay announcements for weeks or months. Trump must next certify by Oct. 15 if Iran is complying with the deal, and officials have said Trump may use that occasion to declare Iran in violation.

A senior US official said Trump is leaning toward not certifying that Iran is complying with the pact and letting Congress effectively decide whether to kill the agreement.

The official said Trump could always change his mind before the deadline and noted he publicly and privately has fumed about the deal, feeling the United States was taken advantage of.

A source familiar with the US discussions said the Trump administration is also considering ways to leave the agreement intact, sanction Iran for its missile tests and support for extremist groups, and then seek to strengthen the pact.
World powers agree all sides in full compliance with deal
Ministers from the seven parties to the agreement met at UN headquarters late Wednesday and agreed that all sides are fully implementing the deal, EU foreign policy chief Federica Mogherini said, suggesting that if there were non-nuclear issues these should be discussed elsewhere.

She said the deal's preservation is important at a critical time in the world.

Asked if the United States had committed to staying in the pact, she appeared to be at a loss and said: "Another question."

French President Emmanuel Macron said the Iran nuclear deal was not enough given that Tehran had increased its influence in the region and pressed ahead with ballistic missile tests, and offered to mediate between the United States and Iran.

Macron, whose country had been one of the toughest negotiators during the talks between Britain, China, Germany Russia, United States and Iran, repeated that it would be an error to scrap the deal.

"Is this agreement enough? No. It is not, given the evolution of the regional situation and increasing pressure that Iran is exerting on the region, and given increased activity by Iran on the ballistic level since the accord," Macron told reporters in New York.

Macron said he wanted to discuss possible sanctions over Iran's ballistic missile program, open negotiations immediately on what happens after the limitations to the accord begin to be lifted in 2025 and hold a discussion on the role of Iran in the region.

"Let's be honest, the tensions are on the rise, look at the activities of Hezbollah and Iran's pressure on Syria. We need a clear framework to be able to reassure regional countries and the United States," Macron said, adding that he was ready to mediate between the United States and Iran.

Macron said he had not given up on convincing Trump, who has called the deal "the worst ever", to change his mind.

The French leader said he believed he had managed to at least convince Trump to allow France and the United Nations to play a mediation role between Tehran and Washington with regard to the situation in Syria, where Iran is a core backer of Syrian President Bashar Assad.

US Secretary of State Rex Tillerson said Iran is in "technical compliance" with the deal, but he said it's failing to live up to the expectation that the agreement would remove a "serious threat" to the region.

Tillerson said it's a political discussion now about whether to remain in the deal.
Protest against Rouhani
While Rouani spoke to the assembly, other nations began signing the first treaty to ban nuclear weapons, a pact spurned by nuclear powers.
Fifty states put their names on the nuclear weapons pact by the end of the day. Guyana, the Vatican and Thailand also have already ratified the treaty, which would take effect if 50 nations take that step.
They would be barred from developing, testing, producing, manufacturing, otherwise acquiring, possessing or stockpiling nuclear weapons "under any circumstances."
Outside of the General Assembly hall, hundreds of Iranian expatriates gathered to protest Rouhani's speech. They waved Iranian flags, chanted and held signs that said "free Iran."
Part of the demonstration on Dag Hammerskjold Plaza, near the UN, included an acting performance and singing over a soundtrack of recorded gunshots and explosions.
Several current or former US politicians who favor a tougher stance on Iran also spoke, including independent former US Sen. Joseph Lieberman, Democratic US Rep. Eliot Engel and Republican former US Ambassador to the United Nations John Bolton.