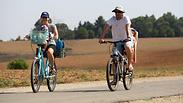 A family of cyclists enjoying the outdoors
Photo: Roee Idan
Tens of thousands flock to Israel's national parks during Rosh Hashanah
70,000 people visit Israel's national parks and gardens during Rosh Hashanah; Popular sites including Gan HaShlosha, Eilat's Coral Beach, Masada; 'Holiday spent more with family members than outdoors,' says Nature and Parks Authority spokesman.
70,000 holidaymakers visited the country's many nature reserves during Rosh Hashanah, reported the Israel Nature and Parks Authority Thursday afternoon.

Gan HaShlosha National Park (also known as the Sakhne) in the Valley of Springs area of the northern region saw especially heavy foot traffic.

In addition, the Kinneret beaches of Tse'elon and Gofra were closed off to vehicular traffic due to the volume of visitors. In total, more than 40,000 people visited the Sea of Galilee during the holiday.

Also in the north, some 200 cyclists rose at the crack of dawn to watch the first sunrise of the new year at the Belvoir Fortress (Kochav HaYarden) National Park.

Tashlikh in Tel Aviv's Frishman beach (צילום: מוטי קמחי)

Dozens of Israelis also congregated in Frishman Beach in Tel Aviv, where they observed the Tashlikh custom, performed on the first day of Rosh Hashanah near a natural body of water and entailing the reciting of prayers.

"The Ein Gedi area and Eilat's Coral Beach reservation have seen a nice influx of visitors, as has Masada. These are the Authority's most popular attractions," said Sharon Tal, director of community and public relations for the Nature and Parks Authority.

"Overnight parking plazas in the Tel Arad and Mamshit areas, where we hold nighttime activities, are also completely booked," he added, referring to parks near the Dead Sea and in the Negev, respectively.

"As a general rule, Rosh Hashanah is a holiday spent more with family than outdoors. We expect thousands more to flock to our nature reserves, parks and gardens during Sukkot. The few thousand that nevertheless choose to spend their holiday in nature are mostly families," Tal concluded.