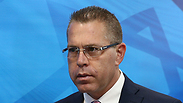 Minister Gilad Erdan
Photo: Ohad Zwigenberg
Minister of Public Security Gilad Erdan responded Wednesday to a police firearm amnesty operation targeting the Arab sector, saying, "The theory claiming weapons can just be 'picked up' from Arab society has been finally been debunked."

The operation, initiated by the Israel Police, concluded Tuesday. It offered Israeli Arabs the opportunity to hand in their unlicensed weapons without fear of consequences.

The drive produced meager results, with 16 handguns, six rifles, assorted ammo cartridges and magazines and one LAW rocket container being returned.

However, only three of the handguns were actually returned in the Arab sector.

"For years, the Joint List MKs leveled false accusations at police for not just 'picking up' illegal weapons in the Arab sector. Now with the amnesty operation concluding, everyone can plainly see the problem runs much, much deeper," Erdan said.

"Handling this issue requires utilizing intelligence, enforcement and police breaching places where illegal guns are actually kept," the minister posited.

The weapons amnesty drive started following overtures from public figures within the Arab sector, with Erdan and the police's high command pushing it through. The operation announced anyone handing in unlawful firearms will not face prosecution.

MK Ahmad Tibi (the Joint List) responded to Erdan's remarks. "Minister Erdan's argument is rather feeble. Since when does the police count on a newspaper notification to round up weapons and then turn around and say there's a problem?" he wondered.

We pointed the problem out and demand the weapons' removal and for crime to be dealt with, but picking up weapons does not equate to putting up roadblocks to write traffic tickets or abusing our peaceful citizenry," Tibi protested.

"In the meantime, police firearms amnesty operations have proven a resounding failure while they still concurrently fail to solve or prevent murders from being committed. The police has done a better job in Netanya without disturbing the public there. What it should really do is block weapons' smuggling from army bases to Arab settlements. 90 percent of smuggled guns can be traced back to the IDF," the Arab MK opined.