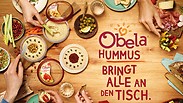 The Obela company, part of Strauss and PepsiCo's international dips and spreads division, will be introduced to Europe for the very first time by launching the sale of hummus in Germany.

The sale of Israeli products in Germany was made possible following Obela's purchase of the Florentin company in the Netherlands last year. Florentin, also owned by former Israelis, sold its factory to Obela, which in turn installed unique production lines for the European hummus in it.

While Obela's attempts to breach the western European market are still in their infancy, in the United States Strauss's "Sabra" company—which operates a factory in Virginia—holds a 57 percent market share in American hummus sales, effectively cornering the market.

Obela will be marketing five hummus products in Germany: classic, dried tomatoes, pine nuts, garlic and Mediterranean hummus, all in 175-gram packages.

Obela and Sabra CEO Sheli Shavit said the 175-gram products will be sold in Germany for 1.99 euro, or NIS 8.5. For comparison, a 125-gram pack of Achla hummus is sold in Israel for NIS 4.7.

CEO of the Strauss group Gadi Lesin defined entry into western Europe as "part of the group's global journey."

Over the years Sabra has become the world's largest hummus manufacturer, he said, while the Strauss-PepsiCo partnership "succeeds in creating real value to tens of millions of consumers around the world."

Sabra holds operations in the US and Canada, whereas Obela operates in Mexico, Australia and new Zealand, with new operations now starting in Germany. The joint company's total sales were NIS 1.38 billion in 2016.

The first German chain to carry the hummus will be "Real", but Florentin-brand organic hummus will still be marketed to organic product stores.