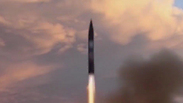 Iran said on Saturday that it had successfully tested a new medium-range missile in defiance of warnings from Washington that it was ready to ditch a landmark nuclear deal over the issue.
State television carried footage of the launch of the Khoramshahr missile, which was first displayed at a high-profile military parade in Tehran on Friday, the 37th anniversary of the outbreak of the Iran-Iraq war. The missile was named after a city in southwestern Iran that was a ravaged in that war and liberated by the Iranians after a month of fierce fighting.
The footage also carried in-flight video from the nose cone.
The broadcaster gave no date for the test although officials had said on Friday that it would be tested "soon".
"You are seeing images of the successful test of the Khorramshahr ballistic missile with a range of 2,000 km, the latest missile of our country," state television said.
"This is the third Iranian missile with a range of 2,000 km," it added.
Footage of the missile launch
Previous Iranian missile launches have triggered US sanctions and accusations that they violate the spirit of the 2015 nuclear deal between Tehran and major powers.
President Donald Trump has threatened to bin the agreement over the issue, saying that Iran's missile program could give it the technical knowhow for a delivery system for a nuclear warhead when a sunset clause in the deal expires in 2025.
He is due to report to Congress on October 15 on whether or not he believes Iran is in compliance with the nuclear deal.
If he decides that it is not, it could open the way for renewed US sanctions and perhaps the collapse of the agreement.
Trump said on Wednesday he had made his decision but was not yet ready to reveal it.