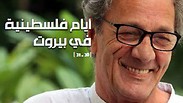 Jenin, Jenin director featured on cover of Hezbollah-affiliated paper
Mohammad Bakri, an Israeli-Arab actor and director, arrives in Beirut to take part in Palestinian Days festival, despite law against on travel from Israel to Lebanon; newspaper Al Akhbar prominently features Bakri, who says his 'presence in Lebanon is a victory over racist laws.'
Israeli-Arab actor and film director Mohammad Bakri was featured on the cover of the Hezbollah-affiliated Lebanese newspaper Al Akhbar on Saturday.

Bakri is known for his controversial 2002 film Jenin, Jenin, which dealt with the IDF's activity in the city during Operation Defensive Shield.

Bakri was featured on the cover of the Lebanese paper after of his arrival in the country to take part in the annual festival Palestinian Days, where some of his films on the Palestinian issues will be screened.

The paper's main headline boasted: "Mohammad Bakri, an optipessimistic in Beirut. The Dar El-Nimer Center for Arts and Culture, the Al Madina Theatre and Al Akhbar welcome the Palestinian actor."

Bakri held a press conference at the Dar El-Nimer Center on Friday, taking advantage of the event to lash out against Israel.

"The normalization with the Zionist enemy is treason. The discussion around this is shameful and unacceptable in any way," he said.

Bakri, a native of the Arab town Bi'ina in the Upper Galilee, also talked about life for Israeli Arabs "under the shadow of the cultural siege on them," claiming: "My presence in Lebanon, which Israel considers an enemy, is a victory over the racist laws that deny the original land owners their right to be in contact with their cultural and geographical extension in the Arab space."

Al Akhbar dedicated several stories for the Palestinian Days event, which it is likely also sponsoring. Among other things, the paper featured a story on Bakri's life, as well as a detailed schedule of the films being screened.