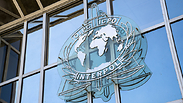 Interpol headquarters
Photo: Shutterstock
Israel and the United States are pressuring international policing organization Interpol to not allow the Palestinian Authority to accede to the organization as a member state.

Interpol's General Assembly has convened in China to discuss whether to postpone opening membership to the organization or hold a vote later this week on accepting any new states.

Apart from the Palestinian Authority, Kosovo also wishes to join the international police organization.

Should Interpol's Executive Committee decide to postpone the membership discussion, it would need to bring the matter to a vote before the General Assembly. The assembly is likely to approve further postponement, which means the Palestinian request will be denied for one more year.

However, if the Executive Committee does decide to bring the Palestinian request to a vote, a discussion will be held later this week, possibly on Tuesday. The Palestinians will then need a two-thirds majority to join Interpol. Sources say whipping enough support for the measure will not be hard.

Israel's Ministry of Foreign Affairs and the Israel Police have been conducting intense behind-the-scenes diplomatic work over the past few weeks in an effort to prevent the Palestinian Authority from drumming up said majority.

Israel claimed Palestinian accession to Interpol will only politicize the organization and Palestinians only wish to join to harass Israel from within. Israel also fears the PA would manipulate Interpol to put out arrest warrants for high ranking Israeli officials, and classified documents passing through the police organization regarding terrorism and its financing would trickle down to Hamas and terrorist groups related to Fatah.

Kosovo's simultaneous request to be accepted to Interpol could work in Israel's favor, as Russia—a staunch ally of Serbia and therefore adversary of Kosovo—firmly objects to it.

Palestinian accession may serve as precedent for also accepting Kosovo and vice versa, and so the Russians may object to accepting the PA to the organization out of their own interests. They may, however, split their position and be in favor of accepting the Palestinian Authority while objecting to Kosovar accession.

In any event, the likeliest scenario is for the Executive Committee to postpone the decision until next year, considering the circumstances. The Americans are also pressuring the Palestinian Authority to agree to postponement.

Two weeks ago, the American were able to get the Palestinians to agree to postpone their request to join the World Tourism Organization, after threatening to close Fatah's offices in Washington should they refuse.