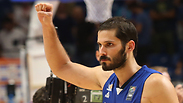 Omri Casspi
Photo: Oren Aharoni
Israeli NBA player Casspi weighs in on Trump-Curry controversy
'Trump incites division, racism and we as a community shouldn't stand for that,' says Omri Casspi, who plays for Golden State Warriors; remarks came after teammate Curry said he'd vote against White House visit, causing President Trump to rescind invitation.
Golden State Warriors small forward Omri Casspi, Israel's sole representative in the NBA, weighed in on the controversy current teammate Stephen Curry was embroiled in, clashing with US President Donald Trump.

In an early morning Twitter message on Saturday, the president rescinded an invitation to Curry, who had said he would "vote" against the planned visit by the NBA champion Golden State Warriors to the White House.

Championship teams from several sports usually make the pilgrimage to Washington to meet with the president after winning the title in their respective leagues.

"Going to the White House is considered a great honor for a championship team. Stephen Curry is hesitating, therefore invitation is withdrawn!" Trump tweeted.

"Donald Trump incites inequality, division and racism. That hurts," Casspi said. "We, as a community, shouldn't accept this kind of rhetoric."

"I've never really talked about politics, but we should never accept racism. We have to stand united against this sort of thing," Casspi added.

Casspi speaking about Warriors-Trump spat

Casspi also addressed the support his captain had received from other NBA figures, most notably LeBron James. "I'm not surprised. He's beloved in the NBA and an exemplary family man. He's a role model to all of us, and going against him is unacceptable," Casspi said.

"This whole thing brought the locker room a lot closer together. We felt like the president picked sides without hearing us out. Players were sure of what they wanted to do. This is a really wonderful organization that lets us all speak our minds freely," the Israeli player concluded.

Curry himself told a news conference in Oakland, California: "It's beneath the leader of a country to go that route."

"It's not what leaders do," he added.

The Oakland-based Golden State Warriors said in a statement the team had intended to meet to discuss the potential visit at the first opportunity on Saturday morning.

"We accept that President Trump has made it clear that we are not invited," the team said.