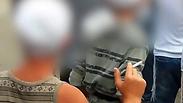 Israeli child smoking
Photo: Amir Bogan
Unruly Israeli kids smoke, drink at Ukraine Breslov frenzy
As thousands of Bresolv Hasidic Israelis travel to Ukraine during the Rosh Hashanah period to celebrate near tomb of movement's revered founder, disturbing footage emerges showing disorderly behavior with unsupervised Israeli children smoking cigarettes, consuming alcohol and adults harassing local drivers.
A disturbing recording has emerged showing unsupervised Israeli children who visited Ukraine over the Jewish new year of Rosh Hashanah smoking cigarettes, drinking alcohol, using drugs and behaving in a disorderly fashion, posing a danger to both themselves and those around them.

As is customary among followers of the Breslov Hasidic movement, tens of thousands of Israelis travelled to Uman to visit the grave of its founder Nachman of Breslov ahead of Rosh Hashanah where eyewitnesses reported and recorded a few unruly youths, aged 10-12, imbibing alcohol, smoking cigarettes and consuming drugs.

Israeli children recorded smoking, purchasing alcohol (צילום: אמיר בוגן)

The debauchery demonstrated by the handful of children who were unsupervised by their parents during the giant annual gathering at the revered rabbi's grave—during which participants sing traditional religious songs, dance, hold prayer services and indulge in excessive alcohol consumption—was captured on recording during the festivities which lasted for a week.

During the reckless celebrations many people, particularly Israelis, poured into the local stores in Uman where they were filmed stocking up on alcohol and cigarettes. Among the customers were small children.

In the video, one child can be seen on a person's shoulders dancing to the trans music being blasted out onto the streets of Uman welcoming the festival of Rosh Hashanah while waving wildly a gun in the air.

Indeed, police in the area have become familiar with the dangerous phenomenon of children taking firearms to a nearby lake after dark and shooting cans and bottles.

The frenzy escalated as some children and adults were recorded jumping onto a garbage truck and harassing the driver as he attempted to drive through the delirious crowds.

The unfettered indulgence has become a common phenomenon during the time of the new year on Pushkina Street near Rabbi Breslov's tomb, with cigarettes and alcoholic drinks being divided among the participants between songs regardless of their age.

At the conclusion of the improvised rave which continues day and night, the crowds launched fireworks against the instructions of the local Ukrainian police.