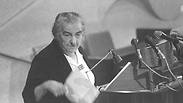 New escape room to commemorate former Israeli leaders
Joint NIS 200,000 project funded by PMO and Ben-Gurion Heritage Institute to see transportable escape room criss-cross Israeli schools, enabling students to learn about past Israeli presidents and prime ministers by unlocking 'treasures of the State of Israel.'
The Prime Minister's Office (PMO) and the Ben-Gurion Heritage Institute (BGHI) are working on a brand new initiative that will see a unique, portable escape room be transported between Israeli schools designed to commemorate late former Israeli prime ministers and presidents.

The aim of the new initiative, which is set to be launched on Israel's 70th Independence Day and criss-cross the country, is to enable school students throughout the country to become more familiar with Israel's leaders through cooperative activities.

Students will enter a "treasure room" and be required to unlock secrets and discover historical treasures associated with the 16 deceased presidents and prime ministers.

The creative thinking and teamwork of the students will lead the group to solve puzzles and locate "treasures of the State of Israel."

The cost of the project stands at 200,000 shekels per year, half of which will be allocated by the PMO while the other half will be covered by the BGHI.

The PMO's Tender Committee confirmed the joint contract only after becoming sufficiently convinced that the BGHI possesses the required knowledge, experts, means and resources to bring the initiative to fruition.