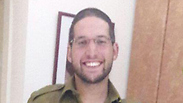 Hundreds of people attended the funeral of IDF Sgt. Avinoam Cohen, 22, who was killed in a training accident in the Golan Heights early Wednesday when a self-propelled cannon overturned into a ditch.

Cohen, 22, from the Sanhedria neighborhood in Jerusalem, served in Battalion 411 of the Artillery Corps and was a student at the Elon Moreh yeshiva.


The funeral was attended by family members, fellow soldiers and friends from Cohen's yeshiva, as well as Education Minister Naftali Bennett. Cohen's sister, who gave birth a few hours after the accident, came to the military cemetery at the Mount Herzl cemetery straight from the hospital on a stretcher.




"Today the IDF lost one of its best soldiers" Cohen's father Shimon lamented. "Today, the people of Israel lost a pure soul, right before Yom Kippur. For 22 years we had this gift and we now have to return it, and we did. It hurts, it hurts, it hurts. But we accept it."

Cohen's brother Sagi said in his eulogy that Avinoam had to fight for everything in his life, and always overcame any obstacle. "You never gave an inch, and yet did so with such pleasantness."

"Thanks for letting us into your heart, we learned a lot from you," he added.

"He was a righteous and honest man, pure, a man of labor," Cohen's uncle mourned. "Three weeks ago, he smashed his finger. He could have taken some time off but insisted on continuing in his service. 'I have a team of soldiers, I cannot leave them on their own,' he said. That's who he was."

Lt. Col. Efi Mizrachi, commander of Artillery Battalion 411 in which Cohen served, said in his eulogy that he was always impressed by Cohen's eagerness to serve.

"In a conversation with your commander, I discovered that you had written him a letter about your rise to command," Mizrachi said. "This letter was all about values and people, a combination of two central characteristics of your command."

The funeral of Lt. Avshalom Armoni, the second soldier who was killed in the accident, will take place at 1pm Thursday.