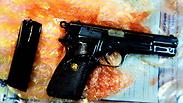 Firearm confiscated
Photo: Shin Bet
Shin Bet busts ISIS sympathizers planning Temple Mount shooting
Two Arab Israelis from Umm al-Fahm, who planned to join ISIS in Syria and frequently watched their videos on the internet, arrested and indicted for plotting to carry out attack against security personnel and civilians emulating deadly July shooting on Temple Mount; third suspect arrested for possession of illegal firearm.
Two Arab Israeli supporters of ISIS were arrested earlier this month for planning to carry out a terror attack at the Temple Mount in Jerusalem, while another ISIS supporter was arrested for possession of illegal weapons, it was cleared for publication Thursday.

According to the Shin Bet investigation, Sa'id Gasub Mahmoud Jabarin, 26 from Umm al-Fahm and a 16-year-old co-conspirator planned to carry out a shooting attack at the compound similar to that which had been perpetrated on July 14 which claimed the lives of two Israeli Border Police officers.

A third suspect, Faris Salah Mahmoud Mahajna, 24, was also arrested for possession of illegal firearms, including a Carl Gustav gun which was confiscated during a raid at his home.

Indictments were served against Jabarin and his 16-year-old partner at the District Court in Haifa for establishing contact with enemies in a time of war, contact with foreign agents and weapons offences.

During the investigation it emerged that the would-be attackers shared and supported ideas and ideology expounded by ISIS.

Following their investigation, the Shin Bet arrested more individuals also from Umm al-Fahm who were suspected of being involved in the illegal arms trade. During their arrest illegal weapons were confiscated.

"The picture that we received during the investigation shows us that a comparatively short time after the murderous attack in July 2017 on Temple Mount, two Umm al-Fahm residents planned a similar attack at the Temple Mount compound," said the Shin Bet in an official statement.

"The attack was prevented thanks to accurate intelligence information of the Shin Bet that enabled the arrests of members of a cell before they managed to execute the serious attack," the statement added.

According to their indictments, the two made contact with members of ISIS and planned to head to Syria to join the fighting taking place.

The defendants frequently visited websites affiliated with the terror organization and watched videos it disseminated, including those documenting its military activities.

In addition, the indictment details how they plotted to launch an attack near the al-Aqsa mosque against non-Muslim civilians and security forces.

They discussed, the indictment goes on, the possibility of carrying out a combined attack using a knife and a gun but decided only to use handguns after Jabarin provided the minor with a firearm and offered to train him how to shoot.

During one visit by the minor to the al-Aqsa mosque, he scouted the area for ideal spots to carry out the attack. He and Jabarin later decided that they would make their way to the compound on organized buses leaving Umm al-Fahm with the weapons strapped to their bodies.

They also agreed that they would carry out the attack in the morning in order to minimize the chances of accidentally harming Muslims.