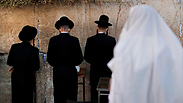 Religious Jews praying at the Western Wall
Photo: AFP
Israel's security forces were on high alert Friday ahead of Yom Kippur—the Jewish holiday of atonement and repentance.

Following the attack this week in Har Adar and fearing further hostilities, the IDF will maintain increased presence in the West Bank, with a general blockade imposed on the territories and on the Gaza Strip until 12:01am Sunday.

Exceptions will be made for humanitarian, medical and other outstanding cases, pending the approval of the Coordinator of Government Activities in the Territories.

In addition, Palestinian workers will not be allowed to enter Israeli communities in the West Bank for as long as the closure is in effect.

Police forces will be deployed throughout the country to ensure the safety of the general public during this holy day.

Among other things, there will be increased patrols, with an emphasis on seam areas between Jewish and Arab neighborhoods, as well as increased police and Border Police activity near the holy places and crowded plazas.

The police will also reinforce the patrols at various population centers to maintain public order and provide an immediate and available response to any security or criminal situation.

Israel Police and Border Police reinforcements and volunteers have been deployed throughout Jerusalem since Thursday afternoon and will remain throughout Yom Kippur to maintain public order and secure the thousands of Jews expected to reach the Western Wall plaza to pray.

Prior to the holiday, the police set up checkpoints on the main roads to prevent the movement of vehicles from east Jerusalem neighborhoods to the west of the city.

Police and Border Police will be stationed near the checkpoints to prevent their removal and will be deployed in the area to prevent stone throwing and other disturbances.

Yishai Porat, Yoav Zitun, Rotem Elizera and Zagrizak contributed to this article.