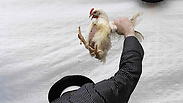 A Haredi Jew performs the Kapparot ritual in Jerusalem
Photo: AFP
Kapparot ritual must be banned altogether
Op-ed: Why is this religious ritual necessary? What's the logic behind it? How does swinging a poor chicken above one's head move the sins from the man to the animal? A sin is the result of action and intention; it's not a physical object that can be passed from hand to hand.
Every year, we face this issue and repress it. I'm talking about the Kapparot ritual, whose supporters put living creatures through a lot of suffering. I know that Yom Kippur is over and that Chief Rabbis David Lau and Yitzhak Yosef spoke out against the practice this year too. The chief rabbis warned that causing grief to animals is prohibited by the Torah, and a Torah prohibition carries more weight than the controversial ritual.

Nevertheless, the images posted online are shocking. They show just how much the poor chicken suffer—both when they are coarsely lifted in the air and circled around the heads of sinners longing for atonement, and when they are thrown with their broken limbs into a quivering pile waiting for the butcher. In their manifesto, the rabbis also mentioned the fact the chickens waiting to be waved over people's heads and then slaughtered are kept in the sun, without any food or water. Indeed.

Why is this ritual necessary? What's the logic behind it? How does swinging the poor chicken above one's head—while pledging "Ze chalifati, ze temurati, ze kaparati. Ze Hatarnegol yelech lemita v'ani ekanes lehaim tovim va'arukim u'leshalom" (This is my exchange, this is my atonement. The chicken will be executed and I will enter a good and long life and peace)—make the sins move from the man to the animal?

And why is it even necessary when Yom Kippur itself allows a person to atone for all the offenses between man and God by praying without the need for anything else? After all, sins cannot be passed from man to man. No matter how many pledges and how many gestures you make, your sins won't be passed on to me and my sins won't be passed on to you. If I desecrate Shabbat, I can't pass my sins on to you. A sin is the result of action and intention; it's not a physical object that can be passed from hand to hand.

You'll say that while the sin can't be passed on, a person can take another person's guilt upon himself, or at least his punishment. After all, Christianity is based on this idea: Jesus, who committed no sin, took "the sins of the world" upon himself. He (and other saints who took their brothers' sins upon themselves) did not turn into a sinner in the process. On the contrary, it only added to his virtues.

For the punishment to move from the sinner to an innocent person, there has to be a sensible person who takes another person's punishment upon himself. Forcing the innocent person to pay for the evil person's sin is not an act of charity; it's murder. And what about animals? An animal cannot sin, let alone take someone else's sin upon itself. Does that sound reasonable? Absolutely. The problem is this isn't the religious logic.

The God of Israel ordered the killing (sacrificing) of animals to make atonement for one's sins. How exactly does it happen? The Torah fails to explain. We can keep wondering about the animal sacrifice commandment to infinity (some of Israel's sages wondered about it too). Some will find what they see as convincing arguments for the animal sacrifice commandment. But even those who don't understand "how it works" follow the useful principle from the Yoma tractate: Not everything must be understood. "I am the Lord, I have decreed it, and you are not permitted to criticize it."

Well, is swinging and slaughtering chickens a sacrifice subject to the sacrificial offerings commandment? The answer is no. It is forbidden to offer a sacrifice outside the Temple in Jerusalem. What is it then? Nachmanides referred to the Kapparot ritual as a "pagan custom" and Joseph Karo, the author of the Shulchan Aruch, called it "a foolish custom." In other words, it isn't protected by the "you are not permitted to criticize it" rule.

Rituals (especially rituals that are not performed by "all the people of Israel") can be changed. And since we know this ritual causes great suffering to animals and that the chance of making it "humane" through different measures is slim, we must not settle—as the chief rabbis have—for suggesting to replace this offensive ritual with a Kapparot ceremony with money, although it's definitely a step in the right direction. It must be banned altogether.