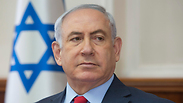 Prime Minister Netanyahu
Photo: AP
Netanyahu responds to Erodgan: Israel had no part in Kurdish vote
After Turkish president claims Mossad had a hand in the vote, Netanyahu clarifies: 'I understand why the Iraqi Kurdish independence is uncomfortable to those who support Hamas and want to see the Mossad everywhere, but Israel had no part in the Kurdish referendum.'
Prime Minister Benjamin Netanyahu rejected on Sunday a claim made by Turkish President Recep Tayyip Erdoğan who said the Israeli intelligence agency Mossad was behind the Iraqi Kurdish independence referendum.

"I understand why (the Iraqi Kurdish independence) is uncomfortable to those who support Hamas and want to see the Mossad everywhere, but Israel had no part in the Kurdish referendum, apart from the deep, natural sympathy the people of Israel have had for many years for the Kurdish people and their aspirations," Netanyahu said at the beginning of the weekly cabinet meeting.

In a TV speech on Saturday, Erdoğan said Turkey had been saddened to see some Iraqi Kurds acclaiming the referendum outcome with Israeli flags.

"This shows one thing, that this administration (in northern Iraq) has a history with Mossad, they are hand-in-hand together," Erdogan said in Erzurum, in eastern Turkey.

Last week, Erdoğan threatened Israel, saying if it does not review its support for Kurdish statehood, "we cannot take a lot of steps that we were about to take with Israel."

To the Kurds, he said, "Who will accept your independence? Israel? But the world is not constituted only of Israel."

Iraqi Kurdish leader Masoud Barzani announced Tuesday that Kurds had voted "yes" to independence in a referendum, with a 72 percent voter turnout and 92.7 percent voting in favor of independence.