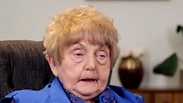 Eva Mozes Kor
Photo: Buzzfeed
A 15-minute video has recently become viral in which Holocaust survivor Eva Mozes Kor forgave Dr. Mengele—the angle of death—who carried out experiments on her and her twin sister at the Auschwitz concentration camp.

Published on September 15, and since accumulating over a million shares on Facebook and three million views on Youtube, the video shows Kor, 83, recounting how she and her family came from Romania to Auschwitz and how she last saw her parents and brother.

She said that she and her twin sister were then taken by Dr. Mengele, who experimented on them both.

Kor Immigrated to Israel after the war and served for seven years in the Engineering Corps. She later met Michael Kor, an American citizen and a fellow Holocaust survivor, married him and moved to the United States to live with him.

In 1984, Kor founded the CANDLES (Children of Auschwitz Nazi Deadly Lab Experiments Survivors) Holocaust Museum and Education Center in Terre Haute, Indiana. She has been the focus of a documentary called "The Girl Who Forgave the Nazis," which explored her meeting with former Nazi Oskar Gröning and the kindness she showed him.

Kor has advocated forgiveness for years as an act of "self healing, liberation and empowerment," speaking about it at length in the video.

In an interview with Yedioth Ahronoth in 2005, she declared that she also forgave Mengele.

"I forgive Mengele and all the other doctors who performed awful experiments on me and my twin sister Miriam," she said. "I forgive them for killing my parents, for taking the rest of my family from me, for robbing me of my childhood, for turning my life into a living hell which gave for me nightmares that accompanied me night after night for the past sixty years.

"In my name—and in my name alone—I forgive them for all these terrible acts."