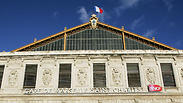 Saint Charles train station in Marseille
Photo: AFP
The ISIS terror group claimed responsibility for a stabbing attack Sunday in which two women were stabbed to death in what police sources have described as a "terror attack" at Marseille's main train station in southern France.

A French soldier shot and killed the attacker. One police source said the man had cried out "Allahu Akbar" (God is Great in Arabic) before attacking the two people with a knife.

People fleeing the scene of the attack (צילום:@Behind__News)

The man suspected of carrying out the attack was known to authorities for common law crimes, said a French police source

French President Emmanuel Macron expressed his outrage at the attack on his Twitter account, and praised the reaction of the security services, including the Operation Sentinelle soldiers set up to deal with such threats.

France's counter-terrorism prosecutor has opened an investigation into the attack, a judicial source said. No further details were immediately available.

A witness told Reuters she saw a man take out a knife from his sleeve and then stab a young girl and then a second woman, shouting what could have been "Allahu Akbar". She added that she saw soldiers from France's Sentinelle force who were patrolling in the area arrive on the public square at the Gare Saint-Charles station.

Police had cordoned off the area and an operation was underway. French interior minister Gerard Collomb said on Twitter he was heading to Marseilles "after the attack perpetrated near Saint Charles train station."

France has been in a state of emergency following a spate of attacks by Islamist militants over the last two years, including attacks in Paris in November 2015 which killed 130 people.

A gunman drove a heavy truck into a crowd celebrating Bastille Day in the city of Nice last year, killing 86 people and injuring scores more.