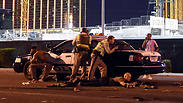 Shooting on the Las Vegas Strip
Photo: AFP
Worst massacre in US history: At least 58 dead, 515 wounded in Las Vegas concert shooting
Nevada resident Stephen Paddock opens fire during outdoor country music festival on Las Vegas Strip near Mandalay Bay Hotel and Casino; 58 people reported killed, more than 515 wounded; shooter committed suicide before police got to him; FBI denies ISIS connection to shooter after ISIS initially claims responsibility.
A gunman opened fire on an outdoor music festival from the 32nd floor of the Mandalay Bay Hotel and Casino in Las Vegas, killing at least 58 people—including an off-duty police officer—and wounding more than 515, officials said early Monday.
Police said the suspect, 64-year-old Stephen Craig Paddock from Mesquite, Nevada, acted alone and was not believed to be connected to any militant group, Clark County Sheriff Joseph Lombardo told reporters.
The Islamic State terror group initially claimed responsibility for the attack, saying that Paddock had converted to Islam months before the shooting.The organization did not name the suspected shooter, but said he had "executed the operation in response to calls to target countries of the coalition" batting the extremist group in Iraq and Syria.
Paddock's family, however, said that he had no political or religious affiliations, and the FBI later issued a response saying that Paddock was not an ISIS operative.
Lombardo said Paddock first checked into the Mandalay Bay casino-hotel on September 28 and was found dead inside a hotel room, apparently after committing suicide.
Police added Paddock had "more than ten guns in his room."
Getting off roughly 100 shots in about five minutes, the massacre was the deadliest attack on US soil, surpassing the shooting in the Orlando LGBT night club last year, which claimed the lives of 49 people.
The Israeli Ministry of Foreign Affairs said contact was lost with 12 Israelis currently in Las Vegas.
Speaking in a brief interview with the Orlando Sentinel, Paddock's brother Eric stated that he is "completely dumbfounded" by the shooting, and that he cannot understand what happened.
Gunfire on the Las Vegas Strip
Heavily armed police searched a retirement-community single-family home where Paddock lived with 62-year-old Marilou Danley early Monday morning.
Mesquite Police Chief Troy Tanner said Danley was not at the house and police saw "no movement" inside before serving a search warrant at the one-story, three-bedroom home in the Sun City Mesquite retirement community, about 80 miles north of Las Vegas.
Tanner says detectives from Las Vegas and North Las Vegas were at the scene in the resort community of Mesquite, located near the Arizona state line.
Authorities initially searched for Danley, 62, in connection with the attack, but have later cleared her of suspicion when learning she was out of the country.
Footage of the Las Vegas shooting compiled from several sources
Dozens of patrol vehicles descended on the Strip after authorities received reports of the active shooter at the Route 91 Harvest Festival, where country music singer Jason Aldean was performing.
Concert-goers reported seeing muzzle flashes from the upper floors of the Mandalay Bay Hotel and Casino across Las Vegas Boulevard from the country music festival and the sound of what they described as automatic gun fire.
Kodiak Yazzi, 36, said he and his girlfriend were watching Jason Aldean's performance when he heard what sounded like fireworks. The music stopped temporarily and started up again before another round of pops sent the performers ducking for cover and fleeing the stage.
Thousands fled as bursts of gunfire could be heard for more than five minutes, Yazzi said.
Footage of the shooting
Witnesses said they saw multiple victims and dozens of ambulances near the concert venue, with photos from the scene showing victims bleeding on the ground and many others escaping on foot. Some attendees later huddled in the basement of the nearby Tropicana hotel-casino.
The area has been cordoned off by security forces.
Some officers took cover behind their vehicles while others carrying assault rifles ran into the Mandalay Bay Hotel and Casino.
Country singer Jason Aldean, who was on stage while the gunfire began, posted on Instagram: "Tonight has been beyond horrific. I still dont know what to say but wanted to let everyone know that Me and my Crew are safe. My Thoughts and prayers go out to everyone involved tonight. It hurts my heart that this would happen to anyone who was just coming out to enjoy what should have been a fun night. #heartbroken #stopthehate"
Civilians flee as they hear gunshots
Country singer Jake Owen, who was on stage before Aldean, tweeted: "Gun shots!!! Vegas. Pray to god. Love you guys."
Country singer Luke Combs, who also performed at the festival Sunday night, tweeted: "Active shooter at @Route91Harvest in Vegas. We're safe. Love you guys."
Authorities shut down part of the Las Vegas Strip and Interstate 15.
Some flights destined for the McCarran International Airport were diverted due to incident.