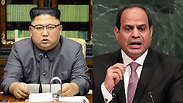 North Korea's Kim and Egypt's al-Sisi
Photo: AFP
US intelligence foils North Korean attempt to smuggle rockets to Egypt
Egyptian businessmen ordered millions of dollars' worth of weapons from Pyongyang for the Egyptian military, which the North Korean tried to smuggle on a ship flying a Cambodian flag; Washington alerted Cairo, which stopped the ship, only to later learn it was bound for Egypt.
US intelligence has successfully thwarted the smuggling of over 30,000 rocket-propelled grenades from North Korea to Egypt, the Chicago Tribune reported on Sunday.

The foiled smuggling attempt strained ties between Washington and Cairo and was one of several secret deals that led the Trump administration to delay nearly $300 million in military aid to Egypt, the Tribune reported.

According to the report, Washington warned Cairo in August of a vessel that was flying a Cambodian flag—but actually came from North Korea—which was making its way toward the Suez Canal.

Egyptian custom agents raided the vessel when it entered their territorial water, finding a massive cache of weapons hidden under a bin of iron ore, which a UN report later dubbed as the "largest seizure of ammunition in the history of sanctions against the Democratic People's Republic of Korea."

Months after the capture of the ship, the UN investigation found the shipment was bound for Egypt itself. Pyongyang and Cairo tried to hide their tracks with a complex arrangement in which Egyptian businessmen ordered millions of dollars' worth of rockets from North Korea for the country's military, according to both US officials and Western diplomats who spoke to the Tribune.

While Egypt insisted it will "continue to abide by all Security Council resolutions and will always be in conformity with these resolutions as they restrain military purchases from North Korea," US officials confirmed to the paper that the shipment was stopped only after American intelligence agencies had alerted the Egyptians about it.

It was unclear whether North Korea ever received the estimate $23 million payment for the arms shipment, the Tribute report noted.