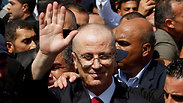 Hamdallah welcomed in Gaza
Photo: Reuters
The Palestinian prime minister led a delegation from the West Bank to the Gaza Strip on Monday for talks with Hamas in the most ambitious attempt to reconcile the rival political factions since the Islamic militant group seized control of the seaside territory over a decade ago.

Rami Hamdallah began his visit with a message of reconciliation, shortly after arriving in a 30-vehicle motorcade through the Erez border crossing separating Israel and Gaza. He was accompanied by a large delegation of Fatah officials from the West Bank-based Palestinian Authority, dozens of aides and armed bodyguards.

"The only way to statehood is through unity," Hamdallah said, speaking at a welcome ceremony attended by Fatah and Hamas officials. "We are coming to Gaza again to deepen the reconciliation and end the split."

Some 2,000 people greeted Hamdallah's delegation at the border. Hundreds of others lined the streets to greet him, preventing the motorcade from making a stop at a Fatah official's house for a planned lunch meeting. The sides decided instead to meet at a beachside hotel.

Hamas ousted the Fatah-led forces of the internationally recognized Palestinian Authority in the summer of 2007, leaving the Palestinians torn between rival governments located on opposite sides of Israel.

While previous attempts at reconciliation have failed, years of international isolation and steadily worsening conditions in Gaza appear to have pushed Hamas toward compromise this time around.

Hamdallah in Gaza (צילום: רויטרס)

In a significant concession, Hamas has offered to turn over all governing responsibilities to Hamdallah. But key sticking points, primarily Hamas' refusal to disarm its powerful military wing, are likely to complicate or even derail the reconciliation efforts in the coming weeks.

"We realize the road is still long and hard. We will be faced with obstacles and challenges, but our people are able to rise again from among destruction and suffering," Hamdallah said.

Hamdallah's Cabinet will hold a meeting in Gaza, and his ministers are expected to assume authority over government offices this week. Negotiations between the sides are expected to move to Cairo next week to work on the more difficult issues.

Palestinian President Mahmoud Abbas, 82, has said the rift is his greatest regret, and both sides appear eager to work out a deal. Regaining control of Gaza would give Abbas a much-needed accomplishment after years of failed peace efforts with Israel.

Although Hamas has ruled Gaza with an iron fist for the past decade, it has watched the territory fall deeper into poverty, battered by a joint Israeli-Egyptian blockade and three devastating wars with Israel. Unemployment is estimated at nearly 44 percent, Gaza's 2 million residents are virtually barred from traveling abroad through the Israeli and Egyptian borders, and residents receive electricity for just a few hours a day.

Several factors appear to be working in favor of reconciliation.

Hamas' new leader, Yahya Sinwar, has expressed a willingness to yield most power to Abbas, preferring to return to his group's roots as an armed "resistance" movement battling Israel. The group has consolidated its leadership inside Gaza, meaning they no longer have to consult with exiled leaders spread out across the Arab world. And perhaps most critically, Hamas has improved relations with the Egyptian government of President Abdel-Fattah al-Sisi.

In a sign of these improved ties, Egypt has sent a delegation to Gaza to help mediate talks, and it will play host to continued negotiations in the coming weeks. Egypt also maintains good ties with Israel and it could potentially play an important role in selling a reconciliation deal to Israel, which considers Hamas a terrorist group. Hamas seeks Israel's destruction and has killed hundreds of Israelis in suicide bombings and other attacks over the years.

Still, many obstacles lie ahead. While Hamas is eager to give up its governing responsibilities, officials say the group will not give up its formidable arsenal of thousands of rockets and mortars aimed at Israel. Officials close to Abbas say he will not agree to allow Hamas to act like Hezbollah, the Lebanese militant group that dominates its country's politics.

It also remains unclear what will happen to Hamas' 40,000 civil servants, who were hired after Abbas forced his employees in Gaza to resign after the Hamas takeover. In an area with few jobs, both sides will likely want their loyalists to receive salaries.

Officials on both sides said the more difficult issues will be addressed at the upcoming talks in Cairo.